The Ultimate Rumble in the Jungle
(March 8, 2016 – Tarzana, CA) In 1935, King Kong's creator, Merian C. Cooper, was seeking a vehicle by which to keep his greatest creation alive.
Kong was dead. Skull Island had sunk at the end of Son of Kong. But Cooper was undeterred. Harkening back to a pre-King Kong project when he tried and failed to obtain film rights to Edgar Rice Burroughs' Tarzan of the Apes, the celebrated filmmaker conceived a Technicolor prequel he called Tarzan Vs. King Kong. A prequel to King Kong, it brought the Ape Man to Skull Island to confront the mighty Kong.
Alas for Cooper and the rest of us, he failed to secure the rights to both properties, and so the project perished.
But it was not forgotten. Periodically, attempts to place those two classic jungle characters in the same story were floated, but nothing ever worked out. Until now.
Altus Press, Edgar Rice Burroughs Inc. and DeVito ArtWorks LLC, are proud to announce their version of this long-deferred dream project.
King Kong Vs. Tarzan is neither a prequel nor a sequel to any movie, but instead reveals an untold story only hinted at in the published Kong mythology, and never suspected: The incredible tale of the voyage of the tramp steamer Wanderer as she conveyed the chained Eighth Wonder of the World from his Skull Island home to the bright lights of New York City, and to Kong's eventual downfall.
This is a voyage of over 13,000 miles, during which the aging tramp steamer must circumnavigate the continent of Africa, home of Tarzan of the Apes, yet keep Kong alive, fed and under control.
When the ship is forced to make landfall, Kong escapes his chains, and roams the unfamiliar African jungle, seeking a way home. Summoned by reports of a giant gorilla larger than any ever seen, Tarzan of the Apes investigates this incredible marauder, setting the stage for the greatest battle royale ever recorded. King Kong Vs. the Lord of the Jungle! The Dark Continent isn't big enough for both of them….
Prolific adventure novelist Will Murray, who recently revived Tarzan in Return to Pal-ul-don, and previously pitted King Kong against pulp superhero Doc Savage in his acclaimed 2013 epic, Skull Island, is the writer of this monumental project.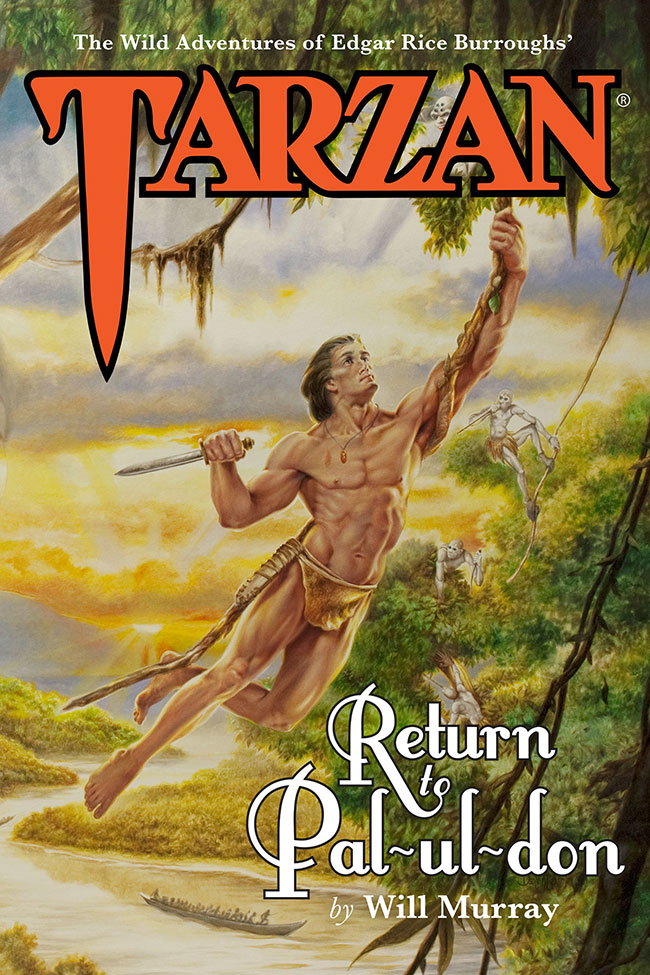 The idea came to me one September weekend in 2014," he says. "It was Edgar Rice Burroughs' 139th birthday anniversary. Previously Joe DeVito and I had entertained the possibility of sending Tarzan to Skull Island, but the premise didn't sufficiently appeal to me. Instinctively, I felt the need for a stronger story, so I put the notion aside until that fateful weekend. It hit me then that no one had ever told the story of Kong's perilous transit across two mighty oceans. Here, I realized, would be an opportunity to unleash King Kong on the Dark Continent, and show him facing new and different challenges–-not the least of which would be the legendary Ape Man himself, Tarzan.
Instead of a sequel or a prequel, we have something new: an interquel, an interlude set within the original King Kong narrative. The beauty of King Kong Vs. Tarzan is it not only hurls those epic characters against one another, but allows us to include the original cast of characters from the original 1932 novel––Carl Denham, Jack Driscoll and Ann Darrow."
Cover artist/author Joe DeVito writes: "Well over twenty years ago, when I created my original Skull Island property in words and pictures with the full cooperation of the Cooper Estate, I believe it was the first such detailed prequel/sequel expansion ever of the original King Kong mythos. Ultimately, Skull Island was fused with the Cooper Estate's original King Kong storyline and King Kong of Skull Island was formed to create the ultimate Kong zeitgeist. In addition to so much more, it is ideal for just these kinds of 'What if?' explorations.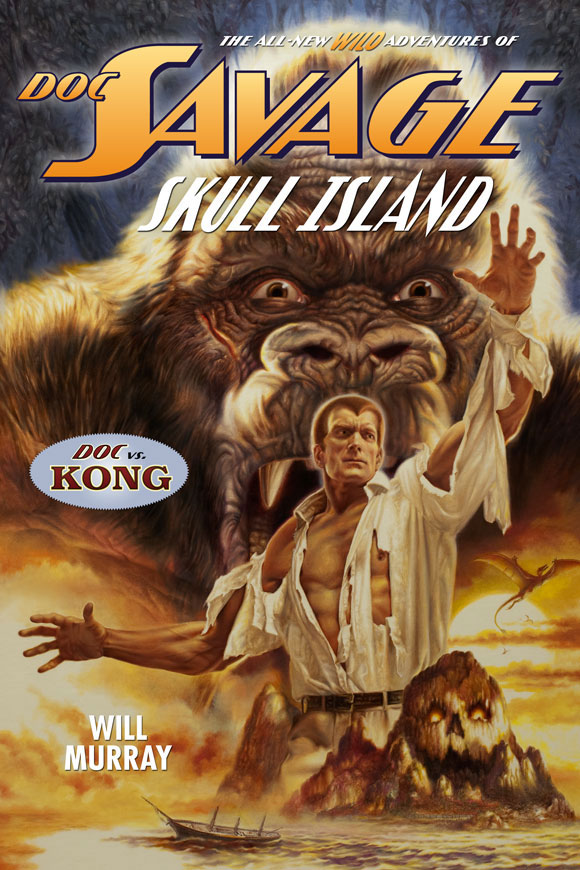 Will and I had a great adventure on a similar endeavor, Doc Savage: Skull Island. This Kong/Tarzan encounter, which draws timeline, details and characters from both the King Kong of Skull Island and Edgar Rice Burroughs' Tarzan oeuvres, promises to be an adventure yarn of appropriately epic proportions. As Will weaves his tale, I look forward to creating the art that will illustrate the story. Along the way we will continue to exchange exciting ideas and details, particularly as they pertain to King Kong and Skull Island, to craft a final book that seeks to explore the exotic, unexpected twists and turns that such a unique adventure offers."
Jim Sullos, President of Edgar Rice Burroughs, Inc, says of the project, "When Will and Joe first approached me at the 2015 Dum Dum Meeting about a King Kong vs. Tarzan novel, my first instinct was that these two should eventually become fast friends. I didn't know that's exactly what Will had in mind, so I was all for it. Two literary legends finally meeting. This tale will be both robust and historic."
Publisher Matt Moring adds, "This historic epic is a saga that Altus Press is pleased to be able to publish. And it's none too soon: after all, this story's a scant 80 years in the making!
King Kong Vs. Tarzan is scheduled for a Summer, 2016 release, timed to coincide with the promising and much-anticipated new Warner Bros. Legend of Tarzan film, and will be issued in trade paperback, ebook and hardcover editions.
Best Regards,
Joe DeVito
and the The Edgar Rice Burroughs, Inc. Team
ABOUT Edgar Rice Burroughs, Inc.
Founded in 1923 by Edgar Rice Burroughs, as one of the first authors to incorporate himself, Edgar Rice Burroughs, Inc. holds numerous trademarks and the rights to all literary works of the author still protected by copyright, including stories of Tarzan of the Apes and John Carter of Mars. The company has overseen every adaptation of his literary works in film, television, radio, publishing, theatrical stage productions, licensing and merchandising. The company is still a very active enterprise and manages and licenses the vast archive of Mr. Burroughs' literary works, fictional characters and corresponding artworks that have grown for over a century. The company continues to be owned by the Burroughs family and remains headquartered in Tarzana, California, the town named after the Tarzana Ranch Mr. Burroughs purchased there in 1918 which led to the town's future development.

ABOUT DeVito ArtWorks, LLC
DeVito ArtWorks, LLC is the home of King Kong of Skull Island, which encompasses both the original King Kong story of Merian C. Cooper's King Kong and its seamless prequel and sequel expansion in Skull Island and The History of Skull Island, created by Joe DeVito. King Kong of Skull Island is the original, comprehensive King Kong Universe, uniquely endorsed and authorized with the name of Kong's creator, Merian C. Cooper. DeVito ArtWorks, LLC and its representatives control the exclusive rights to develop and market King Kong of Skull Island, along with all it's derivative works, in all media formats. Please visit www.AdventuresInBronze.com and www.KongSkullIsland.com

ABOUT Altus Press
Altus Press is the world's largest publisher of pulp fiction. In addition, for several years, Altus Press has published licensed material featuring classic characters such as Doc Savage, Tarzan, and The Shadow for new stories. Altus Press is also the exclusive licensee of the vast intellectual property holdings of Popular Publications, Inc., and The Frank A. Munsey Company, comprising an estimated 30,000 individual pulp stories from the 1920s-70s.
Like us on Facebook: The Wild Adventures of Tarzan and Joe DeVito/DeVito ArtWorks