All New Tarzan Sunday Comic Strip created just for this site, the first in over a decade, are available when you subscribe for only $1.99/month. Login any time to see the Newest Tarzan Comic Strip [with Bonus Material included] and also all previous New Tarzan Strips.
login
subscribe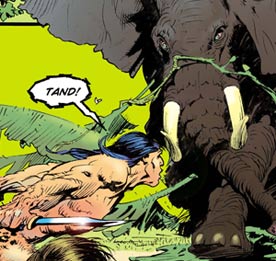 Sundays
ARTIST Tom Grindberg
Tom Grindberg started off his artistic career at the young age of 18 years old from the suburbs of Washington DC in Chevy Chase. Tom's first published work was illustrating political cartoons. Once published, this set his wheels in motion as well his desire to pursue the field of art and publishing. As luck would would have it, it wasn't too long before he landed his first freelance work for both Marvel and DC Comics back in 1981. While during this time he also started working in advertising, working with some of the industries best illustrators and graphic artists.
After leaving advertising, Tom began to devote his full attention to the craft of storytelling and comic book publishing. Tom's credits are varied and numerous. His DC work includes work on Action Comics, Batman, Detective comics, Flash, Green Lantern, Green Arrow to Superman, Superboy, Supergirl, Secret Origins, Teen Titans. His Marvel Comics work includes the Avengers, Daredevil, Marvel Team-up, Punisher, Savage Sword of Conan, Silver Surfer, Spider-man, Thor and X-Factor. His cover work includes many British comics sensations like Judge Dredd to classic pulp fiction characters being revived today like Airboy and the Black Bat (a precursor of sorts to Batman) and Phantom Stranger for Moonstone Publishing.
Tom has also gone on to illustrate for Newsday a long Island newspaper (which won him an award from Associated Press in graphics journalism). Tom has also done an extensive amount of behind the scene work illustrating character design and licensing for both Marvel and DC Comics to his independent publishers to computer game designs to commercial interior designing for leading manufacturing companies and even motion film work which he has credit in too. The list still grows today along side with his newborn daughter Katie which both he and his wife Mari are raising in the sprawling New York City area of Brooklyn.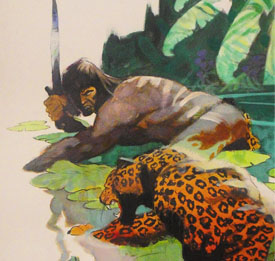 Bonus Materials
WRITER Roy Thomas
Roy Thomas has been an Edgar Rice Burroughs fan since, as a child, he discovered that his local Jackson, Missouri, public library had a virtually complete collection of the works of ERB--except for Tarzan of the Apes, which he had to read several years later. The first movie he recalls seeing as a child was the then-new Tarzan's Desert Mystery), and in the late 1970s he wrote and edited Marvel's Tarzan comic. The Tarzan books instilled in him a desire to see African animals in what's left of the "wild," so in 1994 he spent two weeks on a photo safari in Kenya, one of his most treasured experiences.
In 1961 Roy helped Dr. Jerry G. Bails found Alter Ego, the first real comic book fanzine, becoming its editor & publisher in 1964. From 1965-80 he wrote and edited for Stan Lee at Marvel (The X-Men, The Avengers, The Incredible Hulk, Fantastic Four, The Invaders, Conan the Barbarian, The Savage Sword of Conan, Red Sonja, et al.), serving as the company's editor-in-chief from 1972-74. From 1977-79 he wrote and edited the Conan the Barbarian newspaper comic strip, distributed by the Register & Tribune Syndicate.
In 1976 he moved to Los Angeles, where in 1981 he married Danette Couto, now Dann Thomas. From 1980-86 he wrote and edited under contact for DC, primarily titles he co-created such as All-Star Squadron, Arak - Son of Thunder, and Infinity, Inc. Since 1986 he has been a freelance writer; he and Dann currently live in rural South Carolina, amid a menagerie consisting of African hombills, South American capybaras, etc. For the past dozen years he has worked with Stan Lee on the Spider-Man newspaper strip.
In 1999 the Comics Buyer's Guide poll of comics professionals and fans voted Roy No.5 among 20th-century favorite comic book writers, and No.4 among the century's editors. Alter Ego won the 2006 Eisner award for "best comics-related periodical"; it has also been nominated for a Harvey award in the same category. Roy has won numerous writing and editing awards, including the Alley (fan award), Eagle (British, for writing), and Alfred (from the Angouleme, France, convention, as "best comics writer in a foreign language"). In 2011 he was elected to the Will Eisner Hall of Fame.