The comic strip, The New Adventures of Tarzan, written by Roy Thomas, now features an exciting new artist, Benito Gallego. The former artist for this comic strip, Tom Grinberg – who was instrumental in helping us launch our web comic program – has moved on to other projects.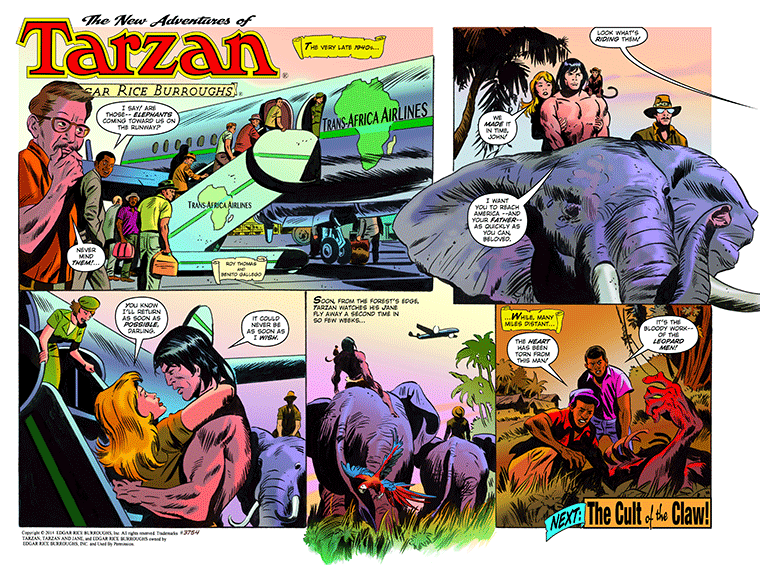 BENITO GALLEGO
Benito Gallego (born in Madrid, Spain) decided he loved comics at a tender age, even before he learned to read. He's been drawing all his life – filling any blank space on every piece of paper that fell into his hands with his doodles. Benito collaborated by providing comics and pin-ups for fanzines and publications in Spain while attending the Faculty of Fine Arts in Madrid. And, he continued drawing comics while developing a parallel career in advertising and graphic design –which paid the bills for many years.
After contacting Roy Thomas, Benito got his first professional assignments working with Roy on both his series', Anthem and Captain Thunder & Blue Bolt – published by Heroic Publishing. Since then, Benito has been working with other top talents in the comic medium such as Cary Bates and Sal Buscema at DC Comics, Brian Azzarello, and Paul Kupperberg. Benito has produced a variety of illustration work including Marvel character trading cards and Monsters! and Dinosaurs for Upper Deck and he also created illustrations for books like the Diego's Dragon series, written by Kevin Gerard.
Benito recently finished artwork for a graphic novel on the life of reggae star, Bob Marley, written by Jim McCarthy, while also working on Apama the Undiscovered Animal – a comic series based on concepts and characters from the movie: Hero Tomorrow, created by Milo Miller and Ted Sikora.
Benito lives in Alicante, on the east coast of Spain, with his wife, Soraya, and daughter, Alona, who are his most ferocious and grateful art critics. You may follow Benito's art at www.Facebook.com/BenitoGallego.Art/