Enjoy this comic strip based on the Edgar Rice Burroughs story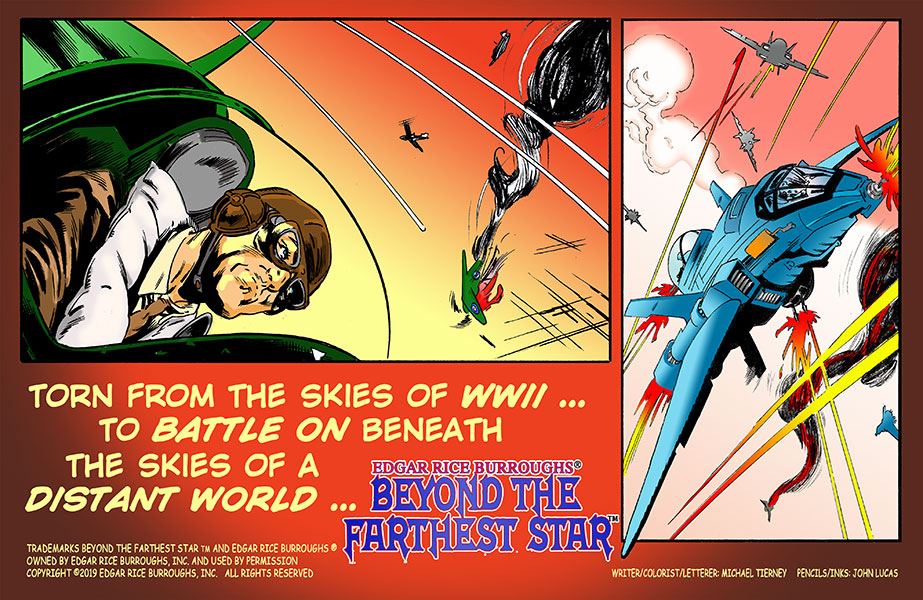 A sci-fi thriller, Beyond the Farthest Star tells of a World War II fighter pilot who is shot down in battle and propelled across the vast reaches of space to an unimaginably distant solar system, where he awakens on the strange world of Poloda. Tangor was the name the people of Poloda gave him. His American name he preferred not to reveal, for his family on Earth thought him dead, a hero shot down while battling Nazi warplanes over Europe.
But Tangor was not dead. Instead, like John Carter, he found himself on the surface of another world—not Mars, but a far-flung planet inhabited by strange beasts, alien peoples, and an advanced martial civilization beset by treacherous political intrigue and ceaseless warfare. On Poloda, Tangor faces the greatest challenge of his life, for there, as on Earth, war is so vast, so entrenched, that it has become a way of life. And unless Tangor can find a way to infiltrate his adopted people's hateful enemy and steal the plans for their latest military innovation, Poloda will be only the first world of the Omos System to fall to its doom..
Edgar Rice Burroughs wrote Beyond the Farthest Star in 1940 while he was living in Honolulu, shortly before he witnessed the attack on Pearl Harbor. Following America's entry into the war, Burroughs became the nation's oldest war correspondent, reporting from the Pacific Theater.
See the first 4 strips of our entire lineup of Edgar Rice Burroughs Comic Adventures.
FREE
---
BEYOND THE FARTHEST STAR TEAM  
WRITER, COLORING, and LETTERS Michael Tierney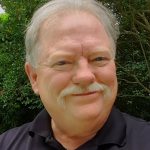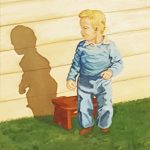 Michael Tierney has over 1,000 published works of fiction and non-fiction. His most notable non-fiction work was the highly-acclaimed Edgar Rice Burroughs 100 Year Art Chronology. The fiction work he is best known for is his long-running science fiction opera: Wild Stars – which consists of novels, portfolios, and comic books. One of those comics he not only wrote, penciled, inked, and lettered, but also printed in his garage. It was the first comic to be foil stamped and have a die-cut cover, and remains the only comic to ever have a die-cut back cover. With Beyond the Farthest Star he accomplishes a personal first. This is his debut as a colorist.
Michael also serves on the City Council where he lives and has been known to wear a mask while traveling abroad – as a master certified scuba diver who hunts sharks with a camera.
Michael's mother, Mary Tierney, created the portrait (at left) of Michael as a child.
ARTIST John Lucas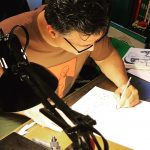 John Lucas is made entirely of popcorn and Caro syrup. It defies biology and common sense and has baffled the great minds of our times. Sadly, the judgements of such big-brained muckity-mucks come at no small cost. So, John must toil away for the few odd coins a cartoonist's life will afford, that he may remain free of the chains of the debtors prison.
John's work has appeared in funny books published by D.C./Vertigo, Marvel, MAD Magazine, Darkhorse, AdHouse, Image, Top Cow, Insight, 1First and BOOM!. If you don't believe it, look it up.
---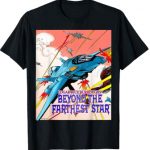 Wild Adventures T-Shirts
Beyond The Farthest Star Tees [2 designs] can be found here and here. Other tees featuring your favorite Edgar Rice Burroughs character from Tarzan® to Korak to John Carter of Mars to The Lad and the Lion to Carson of Venus and many more are available in our online store. Images are from our Comic Strip Subscription stories which are created by well known writers and artists. See our ERB store for all the Edgar Rice Burroughs® Comic Strip TEES. Also you can visit our Amazon Store for tees and additional items such as sweatshirts and new Tee designs.
---