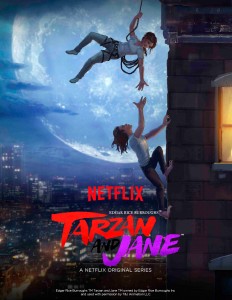 As Variety reports, the coming months will see some major content coming to kid's TV channels, and among them an Edgar Rice Burroughs classic! As they Explain:
Netflix: Edgar Rice Burroughs' "Tarzan and Jane" is a modern-day animated remake that reimagines the pair as crime-solving teens in London (2016).
Exciting for all fans of animation and jungle adventures. There's a lot of other picks for the other networks, so make sure you head to Variety and check out the interesting article there!
(February 10, 2015 – Tarzana, CA) Netflix announced today it will premiere four new animated shows, adding to its award winning lineup of original television series for kids. The shows range from action adventure stories Kulipari: An Army of Frogs and Edgar Rice Burroughs™ Tarzan and Jane™ to preschool shows Cirque du Soleil Luna Petunia and Puffin Rock.
"We couldn't be more excited to be partnering with such a diverse group of creative talent on these new Netflix series for kids," says Erik Barmack, Netflix VP of Global Independent Content. "The flexibility of our platform allows us to continually bring the best TV shows from around the world to our members, and these titles compliment and extend what we currently offer particularly for preschoolers and grade school adventure fans."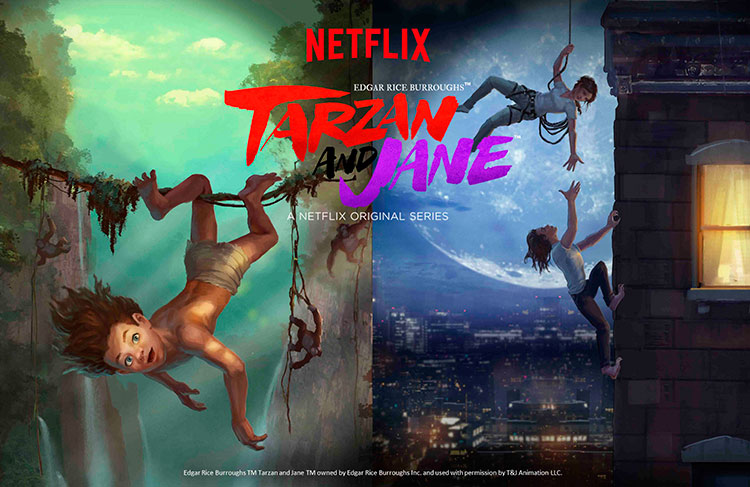 Tarzan and Jane – from 41 Entertainment, Executive Producer Avi Arad (Arad Animation) and with animation from ARC Productions – is a new kids series based on Edgar Rice Burroughs' collection of stories about his iconic characters, Tarzan and Jane. In this modern-day remake, 16 year old Tarzan returns from the African jungle to a London boarding school where he is a fish-out-of-water and challenges conformity. There he meets Jane, Tarzan's ultimate partner, who helps him solve environmental injustice, crimes and mysteries. The eight episode season will premiere worldwide exclusively on Netflix during the second half of 2016.