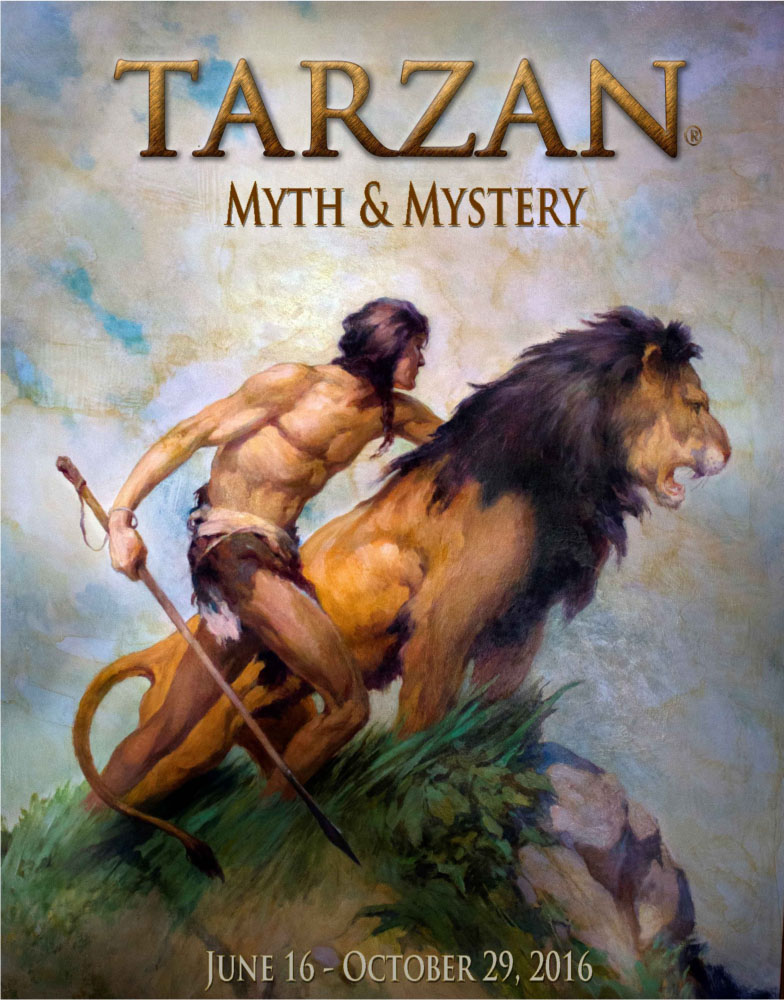 The Brazos Valley Museum of Natural History proudly announces the premiere of its upcoming exhibition, TARZAN: Myth & Mystery,on display from June 16-Oct 29, 2016. This exhibition will open on Thursday, June 16th, at 6 pm, with a free public lecture by Edgar Rice Burroughs Bibliophile Jim Goodwin, followed by a wine & hors d'oeuvres reception & gallery viewing.
A reader and collector of Edgar Rice Burroughs for over 55 years, Goodwin will discuss the story behind Burroughs' Tarzan tales, interesting Burroughs background and Tarzan trivia, and other fascinating anecdotes about Burroughs' writing. A native Texan and a graduate of Stephen F. Austin University, Goodwin worked in the communications industry for 37 years. He is the co-founder of the Texas chapter of the Burroughs Bibliophiles, the "Hell's Benders." The name "Hell's Benders" originated from Burroughs' Western fiction novel, The Bandit of Hell's Bend, featuring a character named Tex. Mr. Goodwin currently resides in Iowa Park, Texas with his wife, Rita, of 43 years and is blessed with two daughters and 4 grandchildren.
Jim Goodwin
This exclusive exhibit showcases items from an extensive collection of Tarzan and Edgar Rice Burroughs memorabilia. Early publications, beautiful original artwork, rare books, and rarely seen film posters will be shown alongside stunning taxidermy animals from central Africa. Through this colorful and exciting exhibit, visitors can explore the natural settings of the Tarzan books, the life of author Edgar Rice Burroughs, the bold world of pulp art, Tarzan's international appeal, and other related topics.
The Brazos Valley Museum of Natural History is committed to promoting science, and cultural and natural history with the integration of art in exhibits and educational programs. This exhibit was made possible in part through Hotel Tax Revenue funded from the City of College Station through the Arts Council of Brazos Valley. The Museum partnered with Edgar Rice Burroughs, Inc., private collectors, Cushing Memorial Library and Archives, and the Anthropology Department at Texas A&M University to produce this outstanding display.
Visit the Official Website to Learn More!

TARZAN® and EDGAR RICE BURROUGHS® Trademarks are owned by Edgar Rice Burroughs, Inc. and used by permission.
Tarzan photo by Ruben Olague, original oil by J. Allen St. John, Tarzan and the Golden Lion, ca. 1923.