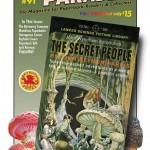 As posted by Richard Greene on Facebook:
Great tribute to Frazetta paperback covers including many Burroughs covers in Issue #91, The latest issue of PAPERBACK PARADE: The Magazine For Paperback Readers And Collectors! Hot off the press!

Edited by Gary Lovisi. Designed by Richard Greene. Published by Gryphon Books, Post Office Box 208209, Brooklyn, New York, 11228-0209, U.S.A., at $15 per copy. Subscriptions: 3 issues for $40 First Class Mail; All other International: 3 issues for $65 First Class Mail. Limited copies of back issues are available at $15 each + postage, please email Gary Lovisi at: gryphonbooks@att.net. Ad rates & specs available on request.
Our fans may be interested in knowing about this!
Recently, the printing plates for Back to the Stone Age were discovered–stored in their original wooden shipping crates. They are thought to be the only surviving set of plates for any Burroughs book. While most plates were used for as many as 30 printings, these plates were only used once–to print the first edition in 1937. Back to the Stone Age was the only pre-war Burroughs title not reprinted by either ERB Inc. or Grosset & Dunlap. That is until now.
Other offerings will be available as well. Click Here to Find out more!