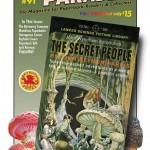 As posted by Richard Greene on Facebook:
Great tribute to Frazetta paperback covers including many Burroughs covers in Issue #91, The latest issue of PAPERBACK PARADE: The Magazine For Paperback Readers And Collectors! Hot off the press!

Edited by Gary Lovisi. Designed by Richard Greene. Published by Gryphon Books, Post Office Box 208209, Brooklyn, New York, 11228-0209, U.S.A., at $15 per copy. Subscriptions: 3 issues for $40 First Class Mail; All other International: 3 issues for $65 First Class Mail. Limited copies of back issues are available at $15 each + postage, please email Gary Lovisi at: gryphonbooks@att.net. Ad rates & specs available on request.