It is always sad to see anothe specie on the brink of extinction, but at least the Ol Pejeta Conservancy is trying to preserve the White Rhinos for as long a possible. With help of armed guards, no less!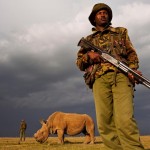 The world's population of northern white rhinos is down to five and the Ol Pejeta Conservancy is home to three of them, including the last remaining male—which is being guarded by armed rangers around the clock.

Along with the critically endangered northern white rhinos, the conservancy in Kenya is also home to 23 white rhinos and 105 black rhinos, making it the largest black rhino sanctuaries in East Africa.
Read more at http://www.grindtv.com/wildlife/armed-rangers-guard-last-northern-white-rhino-male/#HZXxz9CdPAqlpMLG.99