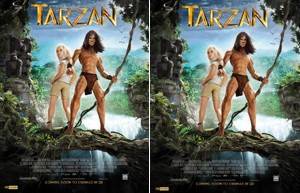 Tarzan is all set to make a comeback this summer in May 2014. The modern day adaptation of the classic Edgar Rice Burroughs story will start Kellan Lutz in the title role.
The film also takes a rather original approach to the story, setting it in modern times, and even throwing in a giant meteorite from outer space.
Tarzan will be a 3D animated adventure film, which employs motion capture technology. In this film, Tarzan is actually the son of billionaire adventurers, who died in a plane crash. The villain is the man who took over Greystoke Industries, a company run by John Greystoke after Tarzan's parents died.
The young boy, whose original name is John Jr., known as JJ, but then is later called Tarzan, is found and adopted by the silverback gorilla Kala and raised as an ape.
As time passes by, Tarzan who has long since forgotten his roots, forgotten the terrible events of his childhood and has become a strong young man, who knows how to handle himself with great skill in even the most dangerous regions of the rainforest. He is fourteen years old when he discovers the beauty of nature during a venture outside of his usual territory.
Read the full story at: Business of Cinema