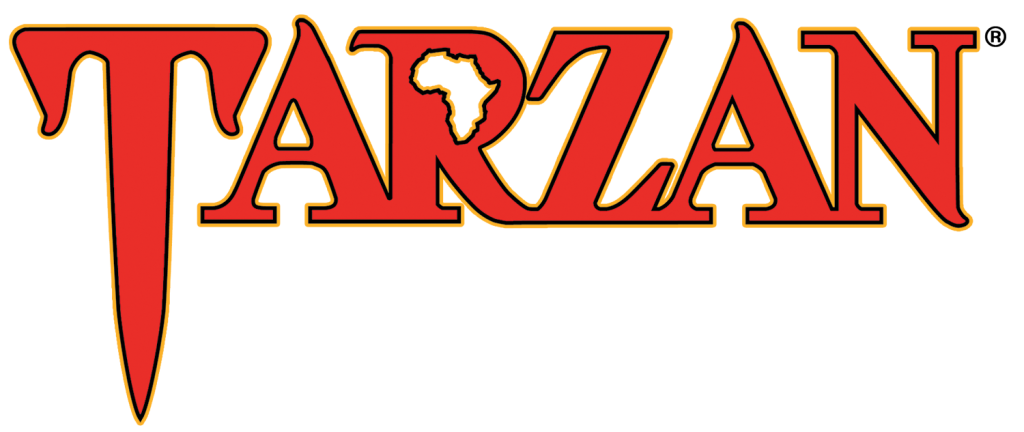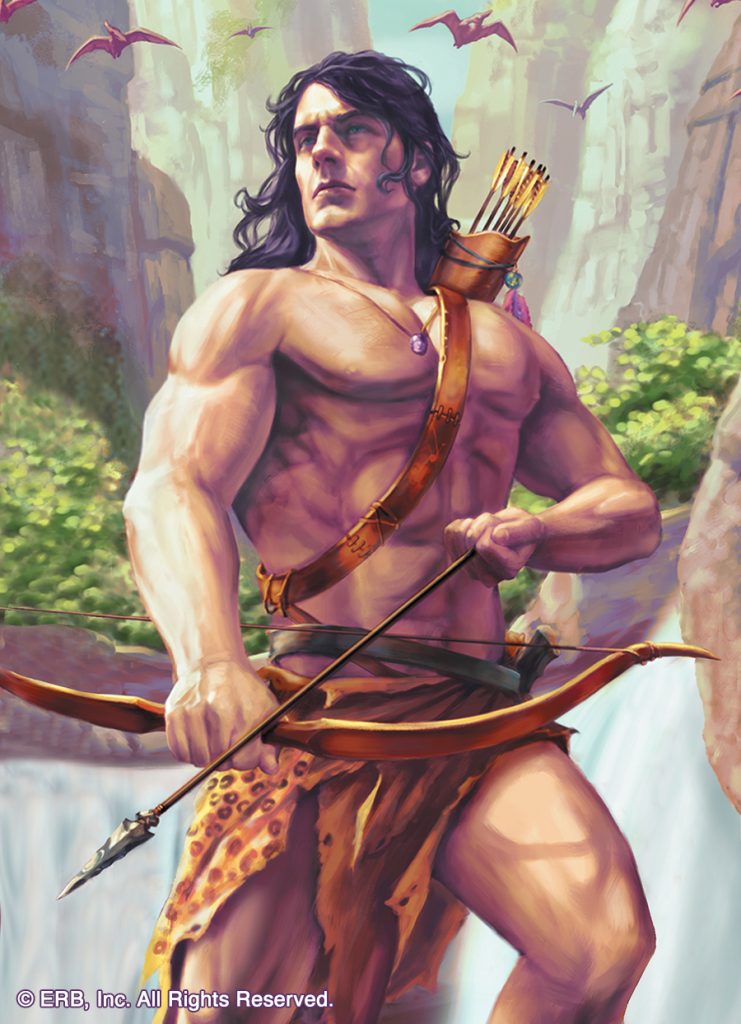 Marooned on the coast of western Africa in 1888, John and Alice Clayton, Lord and Lady Greystoke, perished in the savage jungle, but not before welcoming a son into the world. Adopted into a tribe of Mangani, or great apes, and reared by a kindly she named Kala, young John overcame the brutal challenges of the African wilderness to become Tarzan of the Apes, Lord of the Jungle. Early in his adulthood, an expedition arrived in his secluded jungle domain and brought the beautiful Jane Porter into his life. After prevailing against the equally fierce contests of civilization, Tarzan won Jane's hand and took his rightful place at her side as the noble Lord Greystoke. Tarzan's civilized persona is but a thin veneer he gladly peels off when he roams far from his eastern African estate, seeking out adventure, dealing justice to wrong-doers, and exploring the mysteries of lost realms forgotten by time.
Name: Tarzan
Birth Name: John Clayton
Also known as: Tarzan of the Apes, John Clayton, Lord Greystoke, Lord of the Jungle, Tarzan-jad-guru, Munango-Keewati
Birthdate: 1888
Birthplace: West Coast of equatorial Africa
Species: Human raised by Mangani (Earth)
Spouse: Jane Porter (Jane Clayton)
Children: Korak, Charlotte Clayton
Parents: John Clayton (father), Alice Clayton (mother), Kala (Mangani stepmother)
Education: Jungle, self-taught from library in father's cabin 
Mentors: Kala, Paul d'Arnot
Animal Companion: Jad-bal-ja, the Golden Lion (lion); Tantor (elephant)
Fighting Styles: Archery, jujitsu, wrestling
Weapons of Choice: Father's hunting knife, bow and arrow, spear, bare hands
Personal Interests: Wildlife conservation, exploration, learning languages
Canonical Appearances
Core Canon by Edgar Rice Burroughs:
Tarzan: The Lost Adventure (with Joe R. Lansdale)
Expanded Canon:
Tarzan and the Valley of Gold (novel) by Fritz Leiber
Tarzan and the Dark Heart of Time (novel) by Philip José Farmer
"Tarzan and the Land That Time Forgot" by Joe R. Lansdale (short story)
Tarzan: Battle for Pellucidar (novel) by Win Scott Eckert
Tarzan and the Forest of Stone (novella) by Jeffrey J. Mariotte
Victory Harben: Fires of Halos (novel) – NEW!
---
Shop for official Tarzan® merchandise at the Edgar Rice Burroughs, Inc., Amazon store and Zazzle store.
Get the Tarzan of the Apes collectible coin in the Edgar Rice Burroughs, Inc., Centennial Coin Collection!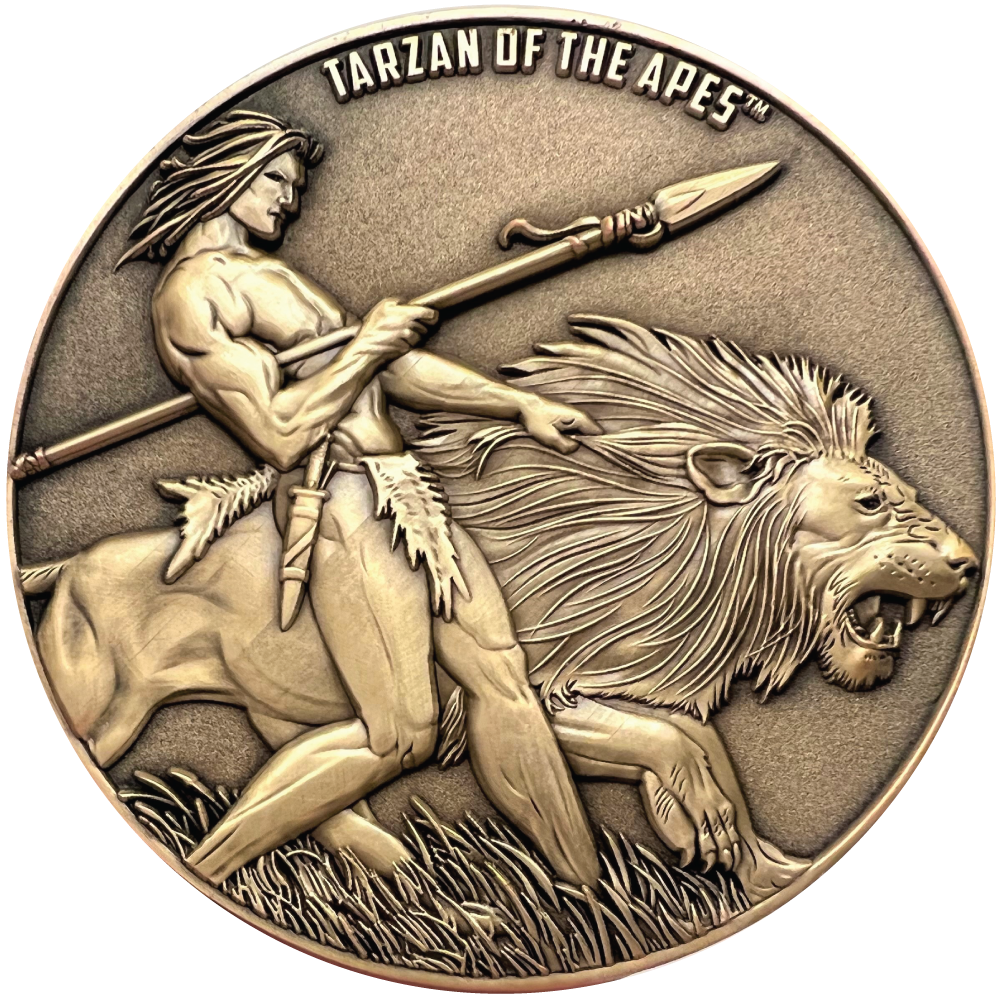 ---
© Edgar Rice Burroughs, Inc. Tarzan artwork by Chris Peuler © Edgar Rice Burroughs, Inc. All Rights Reserved. Tarzan®, Tarzan of the Apes™, Lord of the Jungle®, John Clayton™, Lord Greystoke,™ Jane Porter™, The Tarzan Twins™, Mangani™, Opar™, Pellucidar®, and Edgar Rice Burroughs® Owned by Edgar Rice Burroughs, Inc. Associated logos, characters, names, and the distinctive likenesses thereof are trademarks or registered trademarks of Edgar Rice Burroughs, Inc.