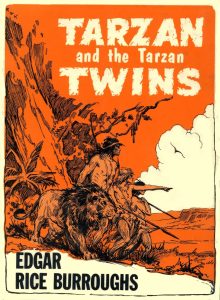 Tarzan and the Tarzan Twins
1927, 1936
Synopsis
What could be more thrilling for two youngsters than an invitation to spend their school holiday on the African plantation of the world-famous Tarzan of the Apes! That is exactly the prospect that opens for Doc and Dick, the Tarzan Twins, and their trip is hardly begun before a railroad accident sends them off upon a jungle adventure to rival the exploits of their hero.
In the jungle, the Twins meet peril with cannibals, a lost tribe of beast-men from the golden city of Opar, and a beautiful little girl destined to a horrible lifetime as High Priestess of the Sun God. The Twins' escape from the cannibals, their encounter with the Oparians, and their rescue of little Gretchen will delight the heart of any reader, from the youngest to the oldest.
Forthcoming in the Edgar Rice Burroughs Authorized Library.
Tarzan and the Tarzan Twins with Jad-Bal-Ja, the Golden Lion © 1936 Edgar Rice Burroughs, Inc. All Rights Reserved. Trademarks Tarzan®, Tarzan of the Apes®, Lord of the Jungle®, Opar™, and Edgar Rice Burroughs® Owned by Edgar Rice Burroughs, Inc.