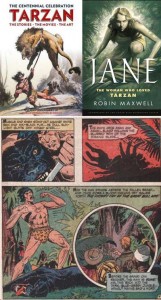 Columnist Dan O'Neil takes a look at the 100 years of Tarzan:
Instead, we celebrate the first true 100th birthday of the first superhero – Tarzan. The "true" hundredth because although the noblest savage of 'em all appeared earlier in an obscure pulp magazine, no-one took much notice until the book Tarzan of the Apes was published in 1914.

It was a sensation, selling a million copies in a year and it signalled the birth of an immortal. Now a century on, yet another Tarzan movie is in the works which means that Tarzan films have been with us almost as long as the 40-odd books written by Edgar Rice Burroughs.

Here was a man who found it hard to separate fact from fiction and for proof, here's how he described his upbringing to his readers: "I was born in Peking at the time that my father was military advisor to the Empress of China and lived there in the Forbidden City until I was 10 years old." A tall tale to rank with Tarzan's upbringing by apes. Burroughs was born in Chicago in 1875, the fourth son of a wealthy businessman.
Read the full article Here!