ANNOUNCING THE LAUNCH OF AN ALL-NEW WEBCOMIC STRIP—THE FIRST IN 3 YEARS!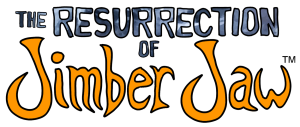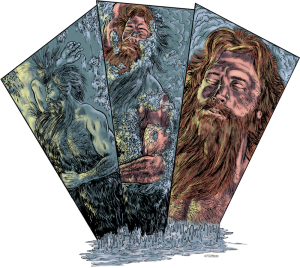 The Resurrection of Jimber Jaw is a creation from the incredible mind of Edgar Rice Burroughs as only he could conceive it. Imagine two men flying in a small plane over Siberia deep in Russia, one a pilot and the other a cryogenicist. (Don't look it up; we'll tell you: cryogenics is the branch of physics dealing with the production and effects of very low temperatures.) Then engine trouble tragically causes the plane to put down in the middle of that vast expanse. And finally, the current from a furious thunderstorm erodes the banks of a small mountain to reveal a human form encased in the ice, lying there perfectly preserved since the Upper Paleolithic era—50,000 years ago!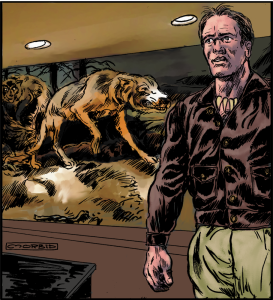 Could you imagine that? Edgar Rice Burroughs did, and he had only one solution to the discovery: bring that man back to life! What would it take? Once he was thawed out, maybe a major blood transfusion from the pilot, followed by an adrenalin chloride solution into the belly. That would be enough to cause the specimen to open his mouth and yawn! But more would be needed: doses of both anterior pituitary fluid and posterior pituitary fluid. And then finish it off with an injection of sex hormones from sheep. With all of that, and weeks of rest and assurances, it would bring to life a living, breathing man of the Stone Age.
But there's so much more to the story, and the best way to see how this man—named Jimber Jaw after a grizzly bear he resembled before shaving and getting an update to his wardrobe—coped with this improbability is to subscribe to our webcomics program at www.erburroughs.com. See how this reborn mammoth of a man went to Hollywood and became Jim Stone, mighty wrestler and boxer, and then fell in love with a movie star that resembled his sweetheart from the Stone Age, only to be pitched headlong into the treacherous perils of modern-day romance.
Written by Bobby Panzarella with assistance from writer and artist Trevor Markwart, The Resurrection of Jimber Jaw is a sensational tale that only Edgar Rice Burroughs, the Master of Adventure, could bring to life!
Subscribe to our Edgar Rice Burroughs Online Comic Strips and read the first episode of The Resurrection of Jimber Jaw today with many more to follow!


THE CREATIVE TEAM
Writer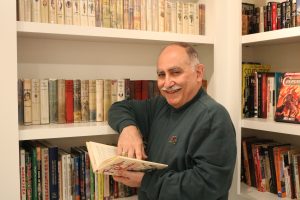 Robert Panzarella is a lifelong Edgar Rice Burroughs fan. He started reading Tarzan of the Apes in junior high and has been hooked ever since. He is an emergency room physician, having graduated from Texas Tech University School of Medicine in 1980, and has worked in emergency rooms from 1983 to the present. He has been writing novels, screenplays, and other works ever since his college days at the University of Texas at Austin, and has completed two novels, a couple of short stories, and ten screenplays. In 1999, he made the independent film Joey Goes to Jail, for which he wrote the screenplay, as well as acted in it, directed it, and produced it, and he has acted in several films and commercials shot in the Houston area. He has written screenplays for Edgar Rice Burroughs, Inc., adapting The Resurrection of Jimber Jaw, The Girl from Hollywood, The Monster Men, The Lad and the Lion, The Mucker, The Return of the Mucker, and The Mad King. He has also written the screenplays for a proposed streaming series of The Mad King and is currently working on a proposed streaming series of The Lad and the Lion. He has been wanting to do a comic strip of The Resurrection of Jimber Jaw for a long time now.
Artist and Co-Writer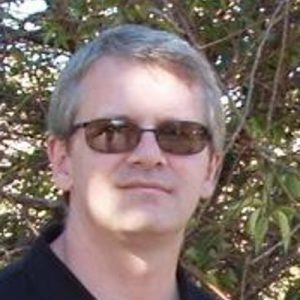 Trevor Markwart is a Canadian former high school art teacher and occasional screenwriter, whose produced films include They Wait (2008), which starred Jaime King and Michael Biehn, and was based on his original spec. He's mostly focused on being a comics creator, and the first graphic novel he drew, Tales From the Black Circle, was nominated for a Rondo horror award. His four-issue crowdfunded series H. P. Lovercraft's Beauty and the Beast, which he wrote and illustrated, was recently published as a mainstream graphic novel. His comic book heroes are Richard Corben and Graham "Ghastly" Ingels, and he occasionally signs his work "Morbid" in tribute to the latter.
---
© Edgar Rice Burroughs, Inc. All Rights Reserved. Trademarks The Resurrection of Jimber Jaw™, Tarzan®, Tarzan of the Apes™, The Girl from Hollywood™, The Lad and the Lion™, The Mad King™, The Monster Men™, The Mucker™, and Edgar Rice Burroughs® Owned by Edgar Rice Burroughs, Inc. Associated logos, characters, names, and the distinctive likenesses thereof are trademarks or registered trademarks of Edgar Rice Burroughs, Inc.