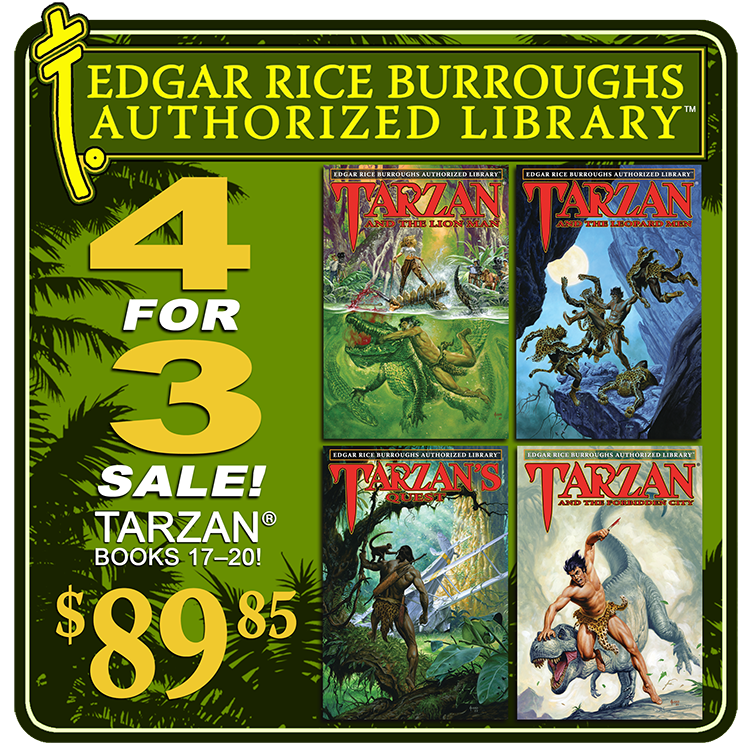 The ERB Authorized Library's NEWEST SET OF FOUR VOLUMES (Tarzan #17–20)—Tarzan and the Lion Man, Tarzan and the Leopard Men, Tarzan's Quest, and Tarzan and the Forbidden City—is now available for preorder, at the special SALE PRICE of FOUR BOOKS FOR THE PRICE OF THREE! These handsome hardcover editions feature gorgeous new cover art and frontispieces by Joe Jusko; forewords by Adam Weissmuller (grandson of Tarzan legend Johnny Weissmuller), A. Lee Martinez (author of Gil's All Fright Diner and the Constance Verity series), Joan Bledig (former long-standing chair of the Burroughs Bibliophiles), and Don Hutchison (author of The Great Hero Pulps); afterwords by noted ERB scholar Henry G. Franke III; and a bounty of rare and previously unpublished archival materials, including a previously unpublished film treatment for Tarzan and the Leopard Men written by Edgar Rice Burroughs!
Tarzan volumes #17–20 are expected to ship to customers during the first quarter of 2023, but due to the continuing uncertainties surrounding the global supply chain, we cannot guarantee this projected shipping date. Please make sure you are signed up for our email newsletter to receive updates on shipping date estimates.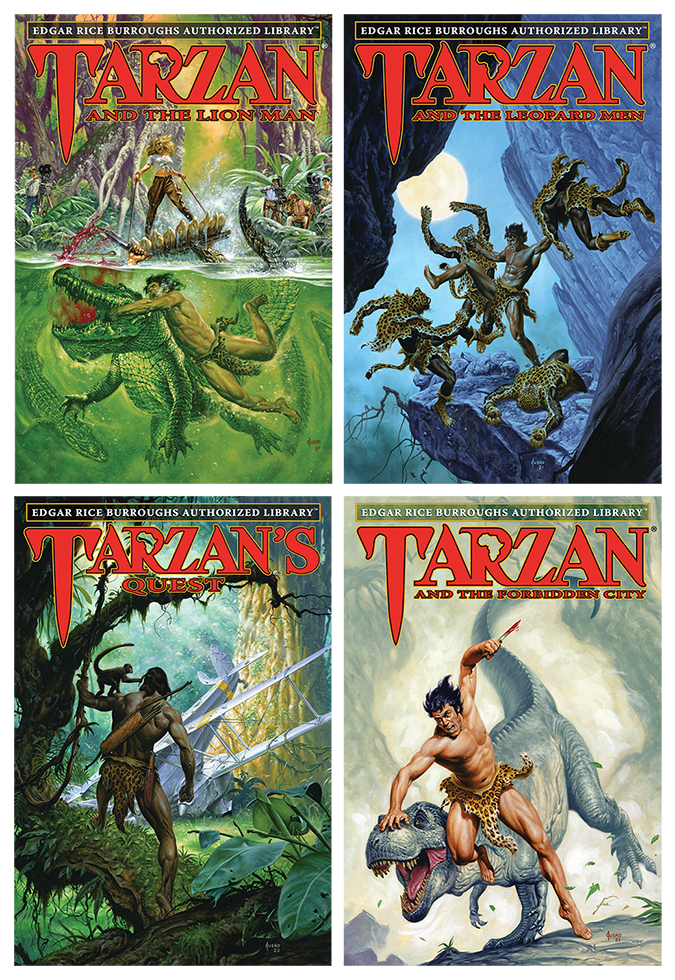 We are happy to announce a special "Buy 4 Books for the Price of 3" sale on Tarzan sets #1–4, #5–8, #9–12, and #13–16! This sale ends January 8, 2023, so don't hesitate—get the books at this amazing price while you can!
The Edgar Rice Burroughs Authorized Library presents the first ever complete literary works of the Master of Adventure in uniform hardcover editions. Published by the company founded by Mr. Burroughs in 1923, each volume of the Authorized Library is packed with extras and rarities not to be found in any other edition. From cover art and frontispieces by legendary artist Joe Jusko to forewords and afterwords by today's authorities and luminaries to a treasure trove of bonus materials mined from the company's extensive archives in Tarzana, California, the Edgar Rice Burroughs Authorized Library will take you on a journey of wonder and imagination you will never forget.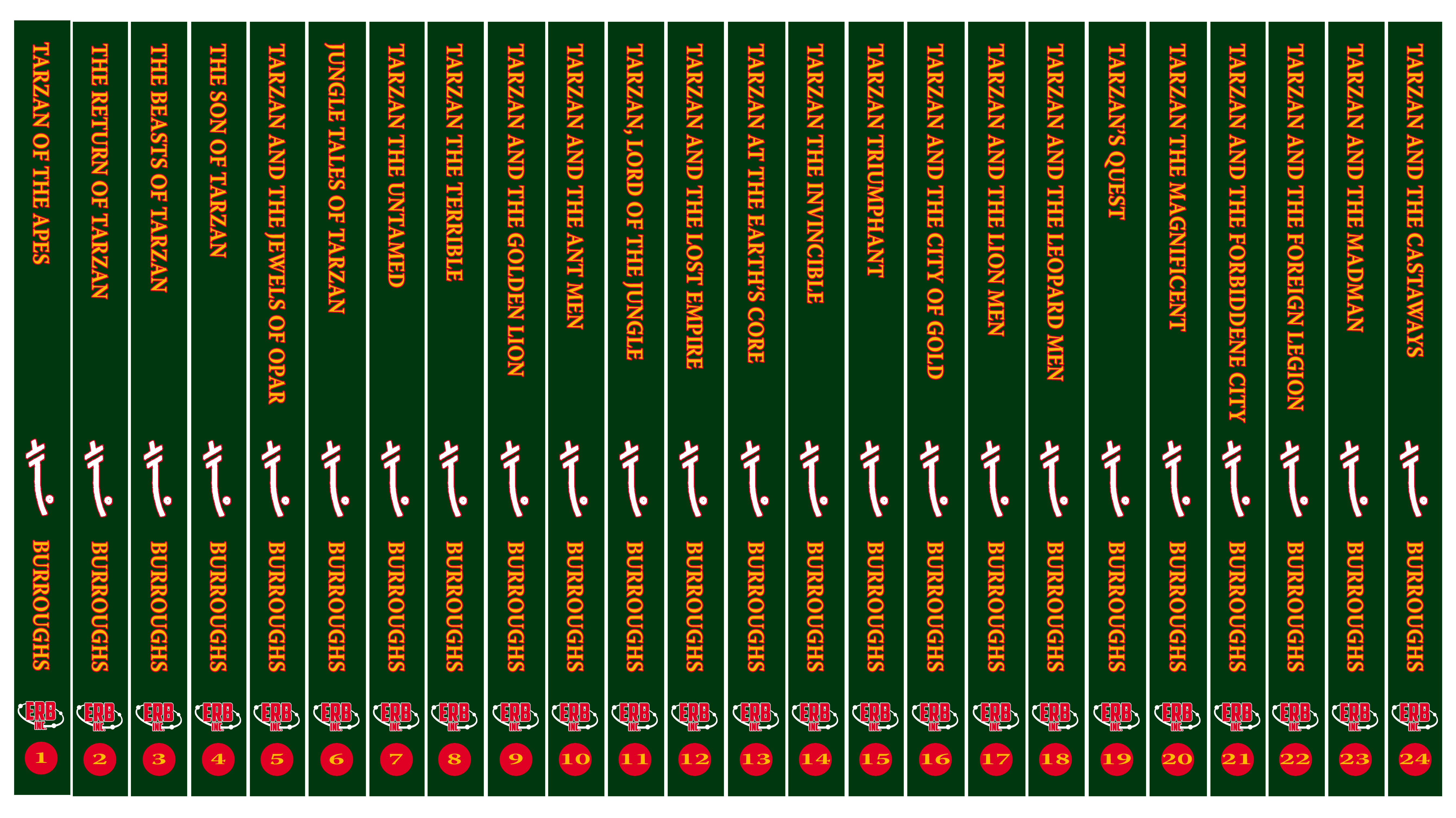 ***WAREHOUSE CLOSED FOR THE HOLIDAY***
Our office and warehouse will be closed Wednesday, 11/23, through Sunday, 11/27, for the Thanksgiving holiday. Any orders from our online store that are placed during that window will ship the week of 11/28.
---
Copyright © Edgar Rice Burroughs, Inc. All Rights Reserved. Trademarks including Edgar Rice Burroughs®, Edgar Rice Burroughs Authorized Library™, ERB Authorized Library™, Tarzan®, and Tarzan of the Apes™ owned by Edgar Rice Burroughs, Inc. All logos, characters, names, and the distinctive likenesses thereof are trademarks or registered trademarks of Edgar Rice Burroughs, Inc.