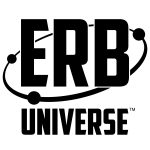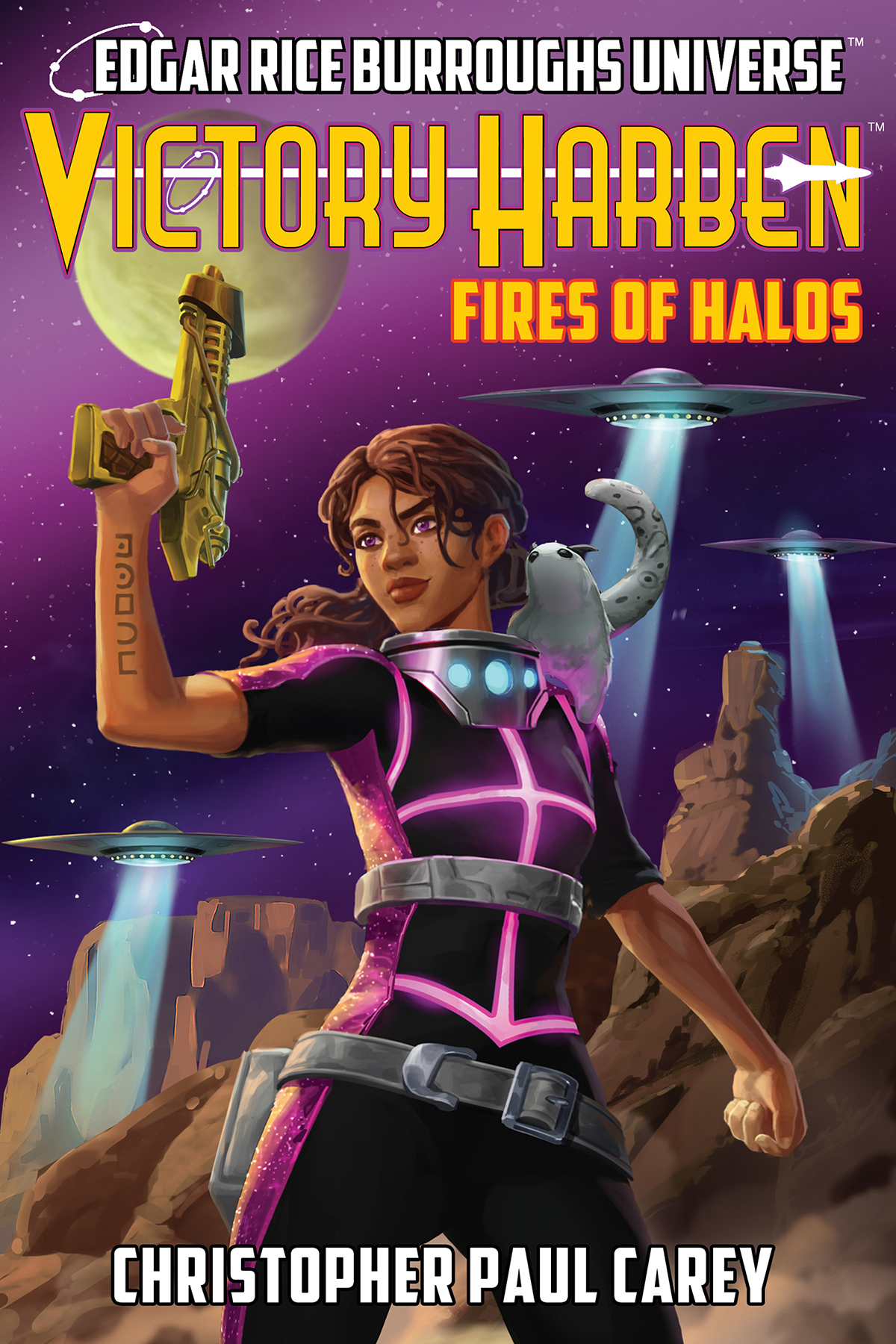 August 30, 2022 (Tarzana, California) The Swords of Eternity super-arc of the groundbreaking Edgar Rice Burroughs Universe series concludes with Victory Harben: Fires of Halos by Christopher Paul Carey—featuring the world of Halos from Edgar Rice Burroughs' legendary unpublished novel fragment, The Ghostly Script! Preorders of Victory Harben: Fires of Halos are now available directly from ERB, Inc. Softcover and hardcover editions, as well as a limited Collector's Edition with a signed bookplate, will be available in a simultaneous release. The novel is expected to ship to customers Fall 2022.
Born in Pellucidar…Mentored by Jason Gridley…Trained to Fight by Tarzan of the Apes
Readers have come to know Victory Harben from her side storyline in the novel Tarzan: Battle for Pellucidar; her adventures in the bonus novelettes "Pellucidar: Dark of the Sun," "Victory Harben: Clash on Caspak," and "Victory Harben: Stormwinds of Va-nah" in the first three Swords of Eternity books; and her starring role in the comic book miniseries Beyond the Farthest Star: Warriors of Zandar. Now, at last, get Victory's complete origin story in Victory Harben: Fires of Halos, which is written so that it can be read as either a standalone novel by new readers or the epic conclusion to the four-book Swords of Eternity super-arc!
The daughter of Gretchen von Harben from Tarzan and the Tarzan Twins by Edgar Rice Burroughs and the warrior Nadok of Pellucidar, Victory spent the first twelve years of her life at the Earth's core under the tutelage of two of the greatest minds of the twentieth century: Jason Gridley and Abner Perry. On the outer crust, she further honed her intellect at Oxford's prestigious Darkheath College, earning an advanced degree in Theoretical Physics while she took breaks to exercise her muscles and fighting skills at Lord and Lady Greystoke's Chamston-Hedding estate. Now all of Victory's abilities and talents will be put to the test as she is hurled upon one of the strangest and most daunting odysseys imaginable!
VICTORY HARBEN: FIRES OF HALOS
When Gridley Wave contact between worlds is inexplicably broken, young physicist Victory Harben returns to her home at the Earth's core to help solve the mystery. Soon Victory finds the riddles of her past are hopelessly entangled with the machinations of an ancient and inscrutable queen of the Mahars, the inner world's dethroned reptilian overlords. Unwillingly hurled into the cosmic void by the queen, Victory is hunted down across space and time by a vengeful being whose flaming sword absorbs the souls of the slain, delivering them to the ravenous lords of Halos. As Victory races to track down the key to her destiny, a storm of malevolent forces gathers against her, unleashing the secret rulers of the afterlife in an unholy tempest that threatens to shatter reality itself.
Bonus Novelette: "Beyond the Farthest Star™: Rescue on Zandar"
by Mike Wolfer
When a hunting party from the village of the Ki-vaas goes missing, the tribe's age-old customs decree the fate of its lost members to have been dictated by the gods. But the young woman Tii-laa cannot abide such hopeless dogma. Striking out on her own, she must risk both her place in the tribe and her very life, facing the planet Zandar's deadly wilds and savage creatures in a desperate attempt to save her missing tribespeople!
Preorder your copy of Victory Harben: Fires of Halos today!
Bonus Trading Card—While Supplies Last!
All preorders of Victory Harben: Fires of Halos placed directly from ERB, Inc.'s online store will come with an exclusive collectible ERB Universe trading card featuring Tii-laa of Zandar, Victory Harben's future friend and the protagonist of "Beyond the Farthest Star: Rescue on Zandar." Collect all of the trading cards by preordering each ERB Universe novel directly from ERBurroughs.com!
Hardcover Limited Collector's Edition
The hardcover Collector's Edition features a special ERB Universe bookplate signed by authors Christopher Paul Carey and Mike Wolfer, as well as a facsimile autograph of Edgar Rice Burroughs, and includes a second exclusive ERB Universe trading card featuring Thabiso Mhlaba's cover art to Victory Harben: Fires of Halos (in addition to the Tii-laa of Zandar trading card). The Collector's Edition is limited to only 200 copies.
Enter a universe of adventure and preorder your copy of Victory Harben: Fires of Halos today!
About the Authors
Christopher Paul Carey is the author of several books, including Swords Against the Moon Men—an authorized sequel to Edgar Rice Burroughs' classic science fantasy novel The Moon Maid—Exlies of Kho; The Song of Kwasin (with Philip José Farmer); Hadon, King of Opar; and Blood of Ancient Opar . He has also written comic books featuring Burroughs' characters such as Tarzan, Dejah Thoris, Carson of Venus, Jason Gridley, and Gretchen von Harben. He is Director of Publishing and creative director of the Edgar Rice Burroughs Universe at Edgar Rice Burroughs, Inc., the company founded by Mr. Burroughs in 1923, and he has edited more than 70 novels, anthologies, and collections for a variety of publishers. He lives in Southern California.
Mike Wolfer, a professional writer and comics illustrator for over thirty years, has been a key talent working on the canonical Edgar Rice Burroughs Universe comic books, including Jane Porter, Victory Harben, Beyond the Farthest Star, Pellucidar, The Land That Time Forgot, The Monster Men, and The Moon Maid. Best known for his Widow series, Wolfer is the creator of the Daughters of the Dark Oracle franchise, and has worked on numerous licensed properties.
About the Cover Artist
Thabiso Mhlaba is a Chicago-based illustrator and concept artist whose interests lie in creating compelling characters and narratives. He holds a Bachelor in Fine Arts degree from the University of Michigan, and he employs his talents at Wild Blue Studios, a worker-owned art house for entertainment, focusing on illustration, concept art, publishing, and motion graphic animation for games and film.
© Edgar Rice Burroughs, Inc. All Rights Reserved. Trademarks Victory Harben™, Beyond the Farthest Star™, Omos™, Zandar™, Tii-laa™, Pellucidar®, At the Earth's Core™, Abner Perry™, Jason Gridley™, Mahars™, The Moon Maid™, The Moon Men™, Va-nah™, Tarzan®, Tarzan of the Apes™, Lord of the Jungle®, Lord Greystoke™, Lady Greystoke™, Jane Porter®, Opar™, Dejah Thoris®, Carson of Venus®, The Land That Time Forgot®, Caspak™, The Monster Men™, Swords of Eternity™, Edgar Rice Burroughs®, Edgar Rice Burroughs Universe™, and ERB Universe™ Owned by Edgar Rice Burroughs, Inc. Associated logos, characters, names, and distinctive likenesses thereof are trademarks or registered trademarks of Edgar Rice Burroughs, Inc.