This is a brilliant example of how technology and nature can come together!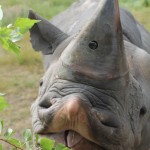 Poaching for rhinos has become so rampant and the prospect of the species going extinct has become so real that scientists have developed an extreme measure to fight back: a hidden camera inserted into the horns of the rhinos.
The aim is for the hidden camera to provide evidence to convict poachers and act as a deterrent to poaching.
Read the full article at GrindTV
Photo courtesy of Protect