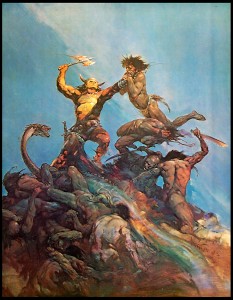 Its with great pleasure to announce two of our new licenses.

The licenses are Tarzan (and Jane) and Frank Frazetta in full majestic 1/4!

We have already Troy working on a Tarzan fighting a gigantic crocodile diorama. Ehren Biennert sculpting Frazetta's Indomitable. Both will be ready in time for San Diego Con.

Also we will have Troy sculpting Frazetta's Atlantis and Ehren sculpting Frazetta's Queen of Egypt in time for New York Con in October.

Here are at least 4 of the sculpts from Frazetta that will be made by ARH Studios Inc. – unlike the last few sculpts from us, these will be true to the art and very accurate to the artwork.

Source: ARH Studios