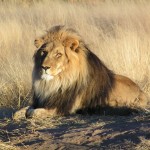 This is some happy news for a change!
Kigali (AFP) – Lions will return to Rwanda for the first time in more than two decades, wildlife officials have said, after the endangered animal was wiped out following the country's 1994 genocide.

Seven lions — two males and five females — are being transported from South Africa and will arrive by air in Rwanda on Monday after a 36 hour journey, where they will be taken and released after at least two weeks quarantine into the eastern Akagera National Park.
Read the full article at Yahoo News