PRESENTING THE FIRST OPPORTUNITY
to order the Grosset & Dunlap Edition of Back to the Stone Age – the first new ERB title published by G&D in 75 years.  
Includes letterpress printed red hardback with black lettering, choice to two dust jackets, advertising band, die cut bookmark, slipcase, folded map of Pellucidar, etc.. (see details below)
Below you will find
·       The illustrated order form below (also attached).
·

      
Chart comparing the features of the ERB Inc. 2
nd
edition and the G&D edition of BSA.
There are two ways to order:
1.     
You can print out the BSA_OrderForm and send it to me with your check.  Jim Gerlach 1626 Skyview Dr.  Irving, Texas 75060
2.     
Or, you can email me with your order (include choice of dust jackets) and I'll send you an invoice through Paypal.
Books will begin to ship August 21st.  Orders are taken on a first come first serve basis.  There are about 200 copies available for purchase. 
Email me with any questions…  I believe this is the finest and rarest G&D ERB book ever printed.  Don't miss this opportunity to own this historic edition.  
Best Wishes,
Jim Gerlach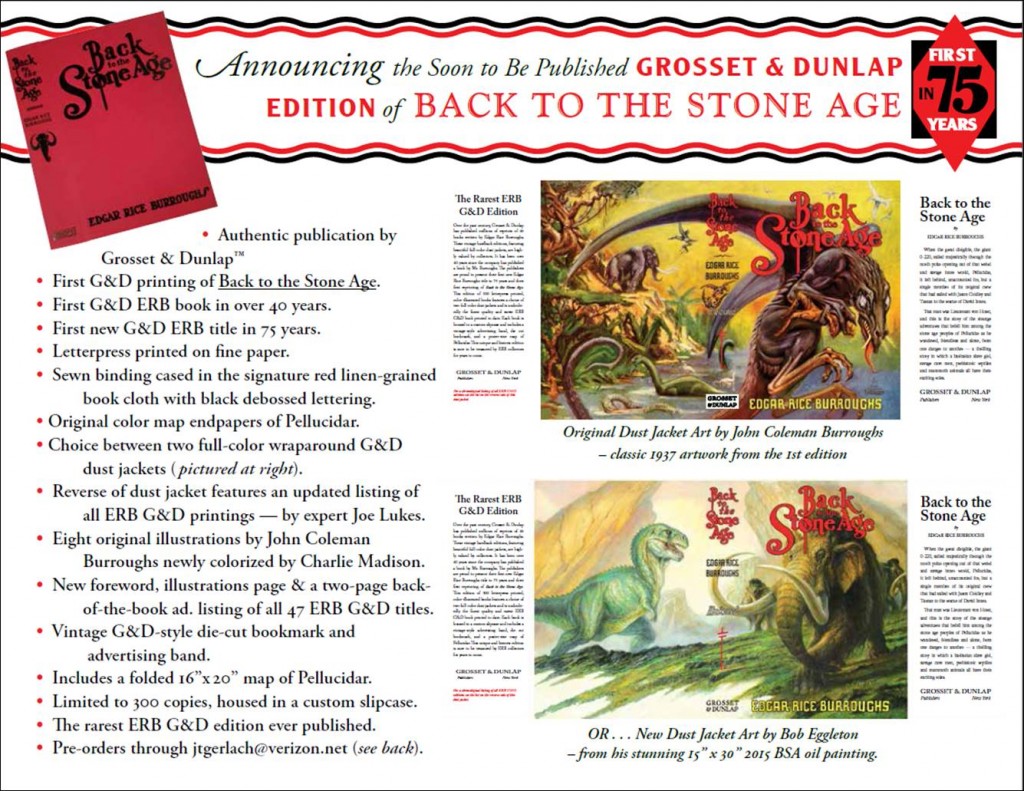 | | | |
| --- | --- | --- |
| | BSA ERBI 2nd Edition | BSA G&D Edition |
| | Blue Cloth w/ Orange Embossed Lettering | Red Cloth w/ Black Embossed Lettering |
| | Edgar Rice Burroughs Inc. | Grosset & Dunlap™ |
| Date of Publication               | March 2015 | August 2015 |
| Edition | 2nd Edition | First reprinting by G&D |
| Binding/Printing | Hardback – sewn binding/Letterpress printed | Hardback sewn-binding/Letterpress printed |
| Number of Pages | 318 + Limitation Page | 318 + (2) G&D Ad pages |
| Dust Jacket                    | Original dj art by John Coleman Burroughs | Choice of two dust jackets – JCB or Bob Eggleton |
| Illustrations | 8 "New" Color Illustrations – three foldouts | 8 JCB original interior Illustrations newly colorized |
| Endpapers | New Map of Pellucidar | New Map of Pellucidar |
| Special Additions/Features | Original 1937 Printer Plate, Dedication Page, Signed/Numbered Limitation Page | Die cut bookmark, Belly band, ERB G&D list on reverse of dust jacket, Full size folded map |
| Book Housing | Black Clamshell Box – Gold Lettering/Decoration | Black Slipcase – Silver Decoration |
| Copies Printed | 300 | 300 |
| Price    | $249.99 + $10 shipping | $150 + $10 shipping |