Exclusive Trading Card Offer
Only with Preorder from ERB, Inc.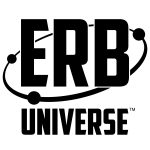 Tarzana, California (March 22, 2022) –The groundbreaking Edgar Rice Burroughs Universe series continues with Tarzan and the Forest of Stone, a brand-new standalone novella by critically acclaimed author Jeffrey J. Mariotte. This exciting tale is set during the classic canon directly after the events of Edgar Rice Burroughs' Tarzan and the Lion Man! Preorders of the book are now available directly from ERB, Inc. Softcover and hardcover editions, as well as a limited Collector's Edition with a signed bookplate, will be available in a simultaneous release. The novel is expected to ship to customers Summer 2022.
Tarzan and the Forest of Stone
After Tarzan departs Southern California following a visit with a dear friend, bandits mysteriously dressed as cowboys straight out of the Old West waylay his train and make off with a precious Native American artifact—taking the daughter of relic's owner hostage in the process. Now Tarzan must set off on foot from the wrecked and twisted ruins of the train in pursuit of the criminals, making his way across the American Southwest, a land as different from his beloved jungle homeland as can be imagined. But even as Tarzan closes in on his prey, a ruthless killer follows close at his heels, intent on bringing an end to the legendary Lord of the Jungle once and for all.
Bonus Trading Card—While Supplies Last!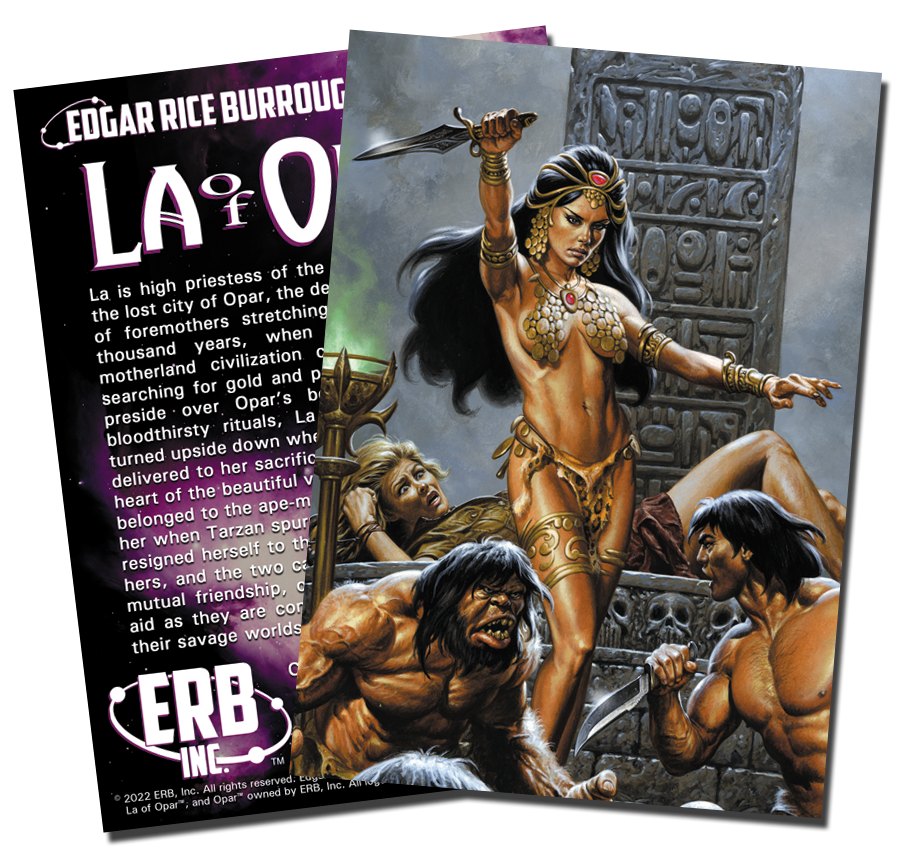 All preorders of Tarzan and the Forest of Stone placed directly from ERB, Inc.'s online store will come with an exclusive collectible ERB Universe La of Opar trading card featuring artwork by Joe Jusko. Collect all of the trading cards by preordering each ERB Universe book directly from ERBurroughs.com!
Hardcover Limited Collector's Edition
The hardcover Collector's Edition features a special ERB Universe bookplate signed by author Jeffrey J. Mariotte, cover artist Douglas Klauba, and frontispiece artist Chris Gardner, and includes a second collectible ERB Universe trading card featuring Douglas Klauba's cover art for the book (in addition to the La of Opar trading card). The Collector's Edition is limited to only 200 copies.
Enter the Edgar Rice Burroughs Universe and join the adventure—preorder your copy of Tarzan and the Forest of Stone today!
---
About the Author
Jeffrey J. Mariotte has written more than seventy books, including the Cody Cavanaugh Western novel series, Blood and Gold: The Legend of Joaquin Murrieta (with Peter Murrieta); supernatural thrillers River Runs Red, Missing White Girl, and Cold Black Hearts; horror epic The Slab; acclaimed thrillers Flesh of All Sorrows, Empty Rooms, and The Devil's Bait; weird western Deadlands: Thunder Moon Rising; and teen horror quartet Year of the Wicked. With his wife and writing partner Marsheila (Marcy) Rockwell, he wrote the science fiction thriller 7 SYKOS and Mafia III: Plain of Jars, the authorized prequel to the hit video game, and numerous shorter works. Three of his novels have won Scribe Awards for Best Original Novel, presented by the International Association of Media Tie-In Writers. He's also won the Inkpot Award from the San Diego Comic-Con and is a co-winner of the Raven Award from the Mystery Writers of America. He's been a finalist for the Spur Award from the Western Writers of America, the Peacemaker Award from the Western Fictioneers, the International Horror Guild Award, and the Bram Stoker Award from the Horror Writers Association,
He is the author of many comic books and graphic novels, including the original Western series Desperadoes, some of which have been nominated for Harvey, Glyph, Stoker, and International Horror Guild Awards.
He is a member of the Western Writers of America, Western Fictioneers, International Thriller Writers, Sisters in Crime, the Horror Writers Association, and the International Association of Media Tie-In Writers. He has worked in virtually every aspect of the book and publishing business, as a bookstore manager and owner, VP of Marketing for Image Comics/WildStorm, Senior Editor for DC Comics/WildStorm, and Editor-in-Chief for IDW Publishing. When he's not writing, reading, or editing something, he's probably out enjoying the desert landscape around the Arizona home he shares with his family and pets. Find him online at jeffmariotte.com, Facebook, and Twitter.
About the Cover Artist
An award-winning illustrator, Douglas Klauba was born and raised in Chicago, and is a graduate of the American Academy of Art. His paintings have been included in the art annuals of Spectrum: The Best in Contemporary Fantastic Art, the Society of Illustrators, and Imagine FX magazine. He was Artist Guest of Honor at the 2016 Burroughs Bibliophiles Dum-Dum convention, and he previously provided artwork for the books Tarzan Trilogy, Untamed Pellucidar, Tarzan and the Valley of Gold, and The Girl from Hollywood Centennial Edition published by Edgar Rice Burroughs, Inc.
About the Frontispiece Artist
Chris Gardner has been a professional artist for thirty years. He has worked for the Disney Design Group, Walt Disney Parks and Resorts, Disney's Yellow Shoes Creative, DC Comics, Marvel Comics, and House Industries.
---
SIGN UP FOR ALERTS
Stay tuned to EdgarRiceBurroughs.com and sign up for email updates to be among the first hear of future releases in the series. Also be sure to follow Edgar Rice Burroughs, Inc., on Facebook, Twitter, and Instagram to keep up with the latest Edgar Rice Burroughs news, publications, and merchandise.
---
Copyright © Edgar Rice Burroughs, Inc. Trademarks Edgar Rice Burroughs®; Edgar Rice Burroughs Universe™, ERB Universe™, Tarzan®, Tarzan of the Apes™, Lord of the Jungle®, La of Opar™, Opar™, Pellucidar®, and The Girl from Hollywood™ owned by Edgar Rice Burroughs, Inc. Associated logos, characters, names, and distinctive likenesses thereof are trademarks or registered trademarks of Edgar Rice Burroughs, Inc.