Book #4 in The Wild Adventures of Edgar Rice Burroughs Series
Available in Hard cover with dust jacket; Soft cover; and Digital editions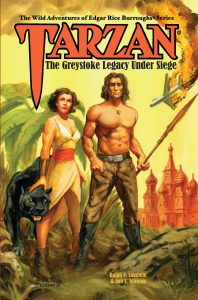 Edgar Rice Burroughs, Inc. has published Tarzan: The Greystoke Legacy Under Siege, a work of fiction that addresses the still-unsolved 1985 murder of primatologist Dian Fossey.
Fossey, an academic and, to many, a real-life Wonder Woman, came to the Rwandan jungle intent on studying and preserving the habitat of endangered mountain gorillas. Fossey swiftly found herself combating the cruelty of poachers and the heartlessness of oil and mining interests, which indiscriminately killed the gorillas out of greed, while filling their pockets with ill-gotten gains. Fossey transformed from scholar to bush guerilla fighter, working to confuse and defeat these environmental terrorists. Tragically, Fossey was brutally murdered in her home in Rwanda on December 26, 1985. On that day, the world lost a champion of the environment, wild endangered habitats and animals.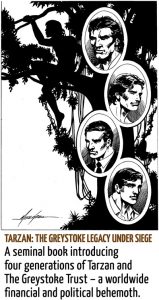 Tarzan: The Greystoke Legacy Under Siege is a seminal book as it introduces four generations of Tarzan, including Tarzan's great grandson, Jonathan, who is unsure of his place in the Tarzan Legacy. Also in this novel, Tarzan's African estate is demolished and many people are killed by an unknown guerilla militia; Tarzan's son, Jack, is accused of Dian Fossey's murder and is sought by the authorities; and Tarzan's grandson, Jackie — who runs the behemoth Greystoke Trust — is accused and imprisoned for crimes against the Crown — a capital offense. This compelling tale, set in the 1980s, chronicles the family's epic battle for survival.
Enjoy this exciting new adventure [Book #4 in The Wild Adventures of Edgar Rice Burroughs' Series] available in:
> Hard Cover (with a Dust Jacket) and Soft Cover editions at ERBurroughs.com
> Digital Editions at Amazon/Kindle / Nook / Apple 
DUST JACKET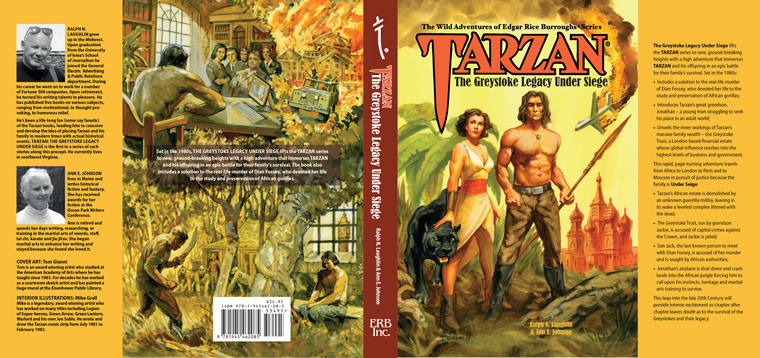 AUTHORS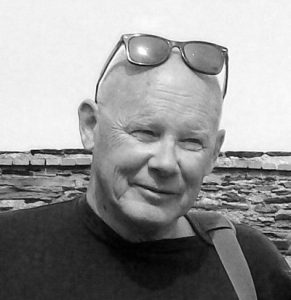 Ralph N. Laughlin grew up in the Midwest. Upon graduation from the University of Iowa's School of Journalism he joined the General Electric Advertising & Public Relations department. During his career he went on to work for a number of Fortune 500 companies. Upon retirement, he turned his writing talents to pleasure. He has published five books on various subjects, ranging from motivational, to thought provoking, to humorous relief.

He's been a life-long fan (some say fanatic) of the Tarzan books, leading him to conceive and develop the idea of placing Tarzan and his family in modern times with actual historical events. Tarzan: The Greystoke Legacy Under Siege is the first in a series of such stories along this precept. He currently lives in southwest Virginia.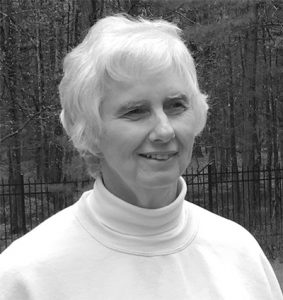 Ann E. Johnson lives in Maine and writes historical fiction and fantasy. She has received awards for her fiction at the Ocean Park Writers Conference. Ann is retired and spends her days writing, researching, or training in the martial arts of swords, staff, tai chi, karate and jiu jitsu. She began martial arts to enhance her writing and stayed because she found she loved it.
ARTISTS
COVER ART: Tom Gianni is an award winning artist who studied at the American Academy of Arts where he has taught since 1983. For decades he has worked as a courtroom sketch artist and has painted a huge mural at the Eisenhower Public Library.
INTERIOR ILLUSTRATIONS: Mike Grell is a legendary, award winning artist who has worked on many titles including Legion of Super-heroes, Green Arrow and Green Lantern. Plus, he has created numerous titles of his own, including Starslayer, Shaman's Tears, Bar Sinister, Maggie The Cat, Warlord and Jon Sable, Freelance. He wrote and drew the Tarzan comic strip from July 1981 to February 1983.
BACK COVER PENCILS: Thomas Yeates