Forty new pieces of stunning artwork have just been added to the Edgar Rice Burroughs Collection at iCanvas.com, and every piece in the entire collection is now 65% off through Friday, December 10! This includes legendary artist Joe Jusko's cover and frontispiece illustrations to the first twelve Tarzan volumes of the Edgar Rice Burroughs Authorized Library, as well as Richard Hescox's classic cover art for ERB's Carson of Venus series and Chris Peuler's fantastical artwork for the first three ERB Universe Swords of Eternity super-arc novels. Also featured is breathtaking new comic book cover art featuring Beyond the Farthest Star, The Land That Time Forgot, Pellucidar, and Victory Harben by artists Miriana Puglia, Alessandro Ranaldi, and Mike Wolfer—and more! Don't miss out on the chance to get these high-quality canvas prints at these amazing sale prices! Check out the entire collection of authorized Edgar Rice Burroughs canvas art and prints and transform your wall space into portals leading to a universe of adventure!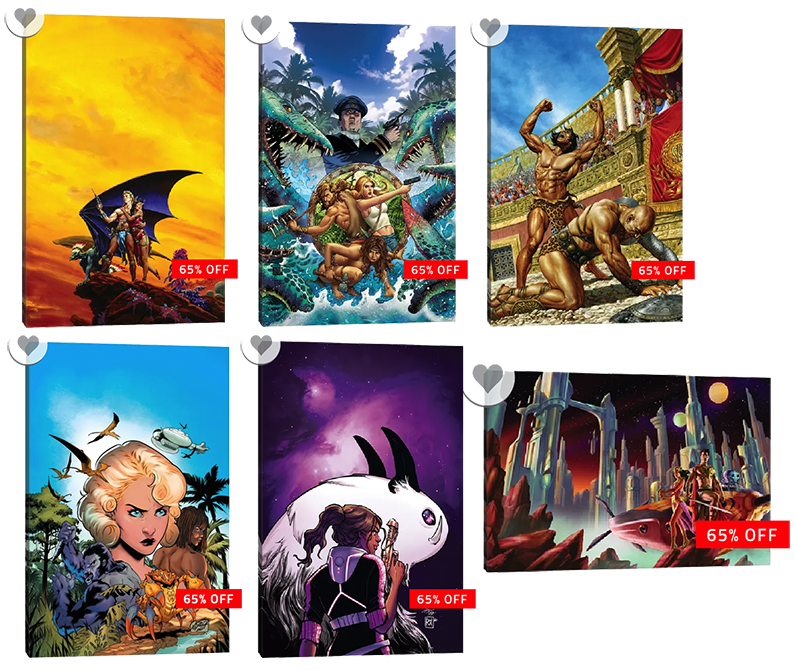 Preorder Now: Tarzan Books #13–16 in the Edgar Rice Burroughs Authorized Library
The ERB Authorized Library's NEWEST SET OF FOUR VOLUMES (Tarzan #13–16)—Tarzan at the Earth's Core, Tarzan the Invincible, Tarzan Triumphant, and Tarzan and the City of Gold—is now available for preorder, at the special SALE PRICE of FOUR BOOKS FOR THE PRICE OF THREE! These handsome hardcover editions feature gorgeous new cover art and frontispieces by Joe Jusko; forewords by award-winning author Joe R. Lansdale, Tarzan film actor Casper Van Dien, Tarzan Revisited director Robert de Young, and ERB biobibliographer Demos Sachlas; afterwords by noted ERB scholar Henry G. Franke III; and a bounty of rare and previously unpublished archival materials, including a previously unpublished film treatment for Tarzan and the City of Gold written by Edgar Rice Burroughs!
Tarzan volumes #13–16 are expected to ship to customers during the first quarter of 2022, but due to the current uncertainties surrounding the global supply chain, we cannot guarantee this projected shipping date. Please make sure you are signed up for our email newsletter to receive updates on shipping date estimates.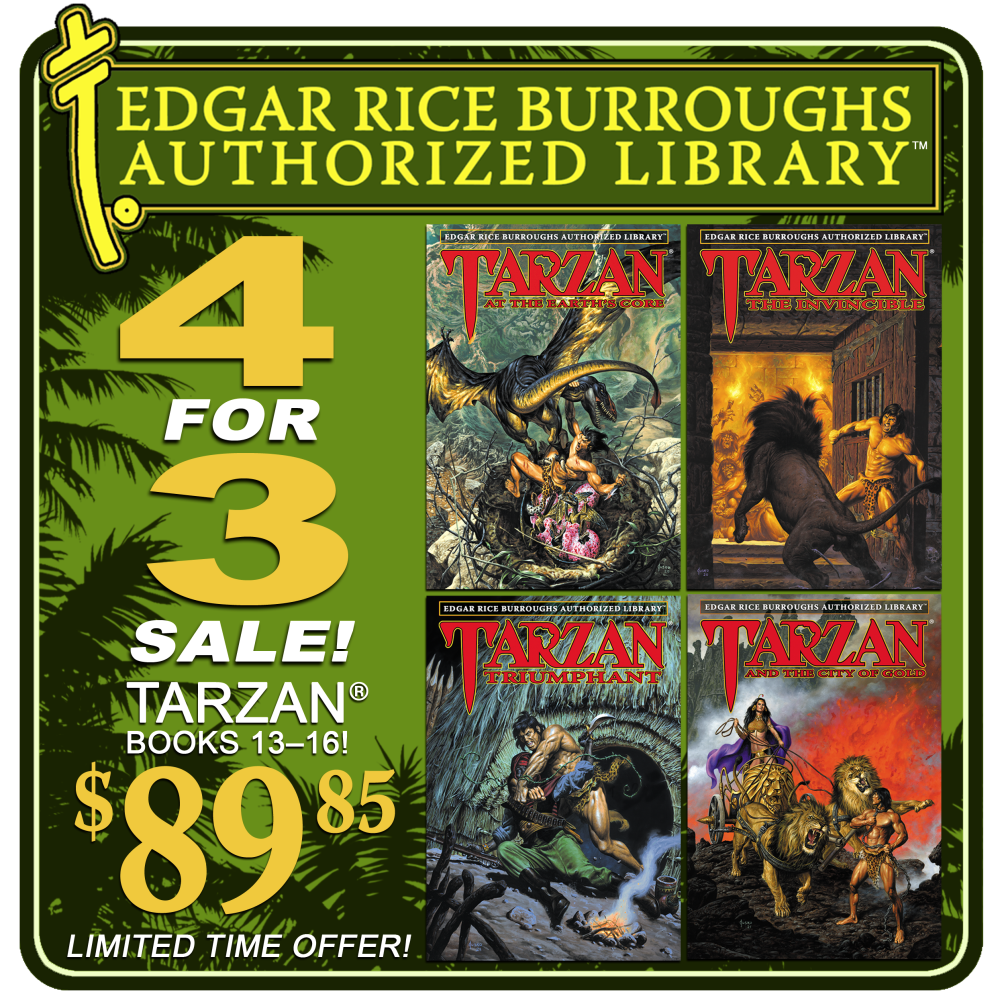 Due to popular demand, we have decided to extend the "Buy 4 Books for the Price of 3" sale for Tarzan books #1–4 indefinitely. However, our sale will be ending on December 31, 2021 for Tarzan sets #5–8 and #9–12, so get them at the "4 Books for the Price of 3" sale price while you still can! The "4 for 3" sale price will remain in effect on Tarzan #13–16 until the next set of Tarzan volumes will be released next year.
Join Us This Weekend at L.A. Comic Con!
The ERB, Inc., team is excited to be attending L.A. Comic Con and mingling with ERB fans this weekend (Friday, December 3–Sunday, December 5). If you're in the area, please stop by Booth #1737 to say hello, and come browse our assortment of ERB books and merchandise—perfect for holiday gifts! Also check out our Tarzan, Jane Porter, and the ERB Universe panel on Saturday evening at 6:00 p.m. in Room 301A, with ERB, Inc.'s President Jim Sullos, VP of Operations Cathy Wilbanks, and Director of Publishing Christopher Paul Carey. We have lots of exciting ERB news to share!
© Edgar Rice Burroughs, Inc. All Rights Reserved. Trademarks Tarzan®, Beyond the Farthest Star™, Carson of Venus®,  The Land That Time Forgot®, Pellucidar®, At the Earth's Core™, Edgar Rice Burroughs®, Edgar Rice Burroughs Authorized Library™, ERB Universe™, Swords of Eternity™, and others owned by Edgar Rice Burroughs, Inc. Associated logos, characters, names, and the distinctive likenesses thereof are trademarks or registered trademarks of Edgar Rice Burroughs, Inc.