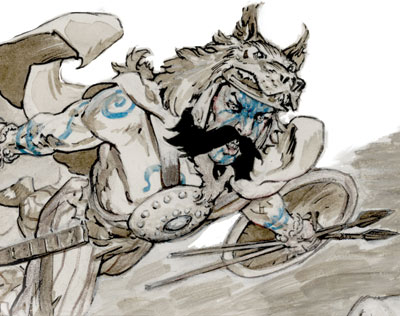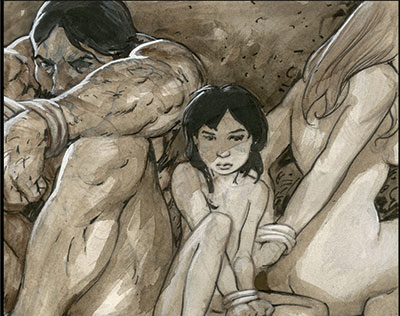 Edgar Rice Burroughs Presents
I Am a Barbarian
an all new web comic in our subscription lineup
Someday, I will have my revenge. Someday, I will kill Caesar.
This historical tale is a rather free translation of the memoirs of Britannicus – Caligula's slave for 25 years. Caligula, emperor of Rome from AD 37 to 41, was historically known for being insane. This story contains numerous facets of Caligula's life, including his popular early acts as emperor and then his descent into madness.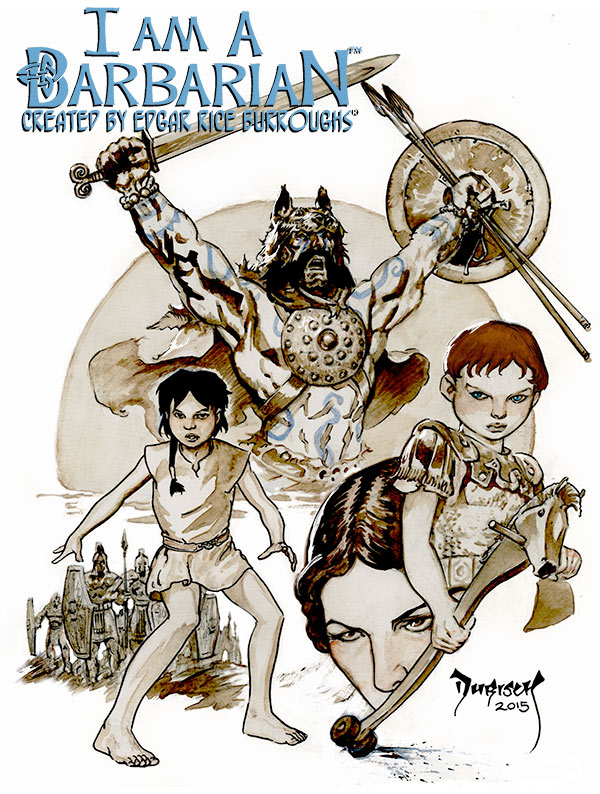 I Am A Barbarian is a historical novel written by Edgar Rice Burroughs in 1941. The only other historical novel penned by Mr. Burroughs – The Master of Adventure – was The Outlaw of Torn which was set in King Henry III's England and was the second novel he wrote in his fledgling career. Mr. Burroughs wrote his classic, Tarzan of The Apes, just after The Outlaw of Torn.
Britannicus, the arrogant son of a defiant chief in far-off Britain, was just another young barbarian to the haughty Romans who enslaved him. Britannicus' mother and father were also enslaved by the Romans and he was never able to speak to them again. Britannicus becomes the personal slave of Emperor Caligula's nephew. In the decadence of Imperial Rome, Britannicus faced death time and again, in the gladiatorial arena, in chariot races, in the twisted hearts of Palaces, and always at the hand of his master, mad Caligula – the bloodiest Roman of them all.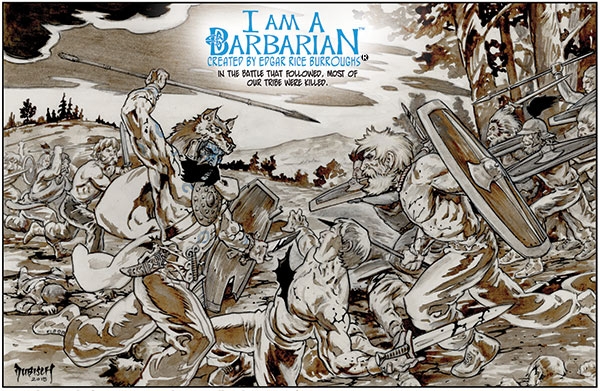 Britannicus watches as Caligula falsely accuses, fines, and even kills, individuals in order to seize their estates during a financial crisis caused by his own wasteful spending. In order to gain funds, Caligula asks the public to lend the state money; he levies taxes on lawsuits, marriage and prostitution; and begins auctioning the lives of the gladiators at his shows. Once, when Caligula was bored, he ordered his guards to throw scores of people into the arena to be eaten by lions because there were no more criminals to be thrown in the ring.
Only the imagination of Edgar Rice Burroughs could have reincarnated the chariot races, the intrigues, the people, and the sights and sounds of long-dead Imperial Rome. And now the brilliant team of writer Tom Simmons, artist Mike Dubisch, and letterer Jamal Walton brings this larger than life tale – with its vivid story, art and period authenticity – to life in this new Comic Strip. 
Don't miss it! Subscribe to our new web comic strip, and be thoroughly entertained by the twisting adventure that only Edgar Rice Burroughs can create.
Best Regards,
The Edgar Rice Burroughs, Inc. Team
---
WRITER Tom Simmons
"In mid-1941 – with personal health issues mounting and the world once again at war – Edgar Rice Burroughs penned I Am a Barbarian, his second and final historical novel.  The story is dark and decidedly un-Burroughs like, which make adapting it to action/adventure strip format a challenge I'm very excited about," says screenwriter and graphic novelist Tom Simmons of his latest writing gig. In addition to adaptations for the online strips The Monster Men and The Outlaw of Torn, Tom has several screenplays and graphic novels in progress. "It's a pleasure to be working with Lovecraft-Award winning artist Mike Dubisch on this effort, as well as with Jamal Walton on yet another ERB, Inc. project.
ARTIST Mike Dubisch
Internationally known fantasy illustrator and graphic novelist Mike Dubisch has his roots in golden age horror comics and pulp Science Fiction. His art has been used in toy design and illustration for Star Wars, The Wheel of Time, and Dungeons and Dragons role playing games, covers for Aliens VS Predator, and graphic adaptations of The Boxcar Children and other children's literature. His work has appeared inScience Fiction Age, Realms of Fantasy, Weird Tales and the H. P. Lovecraft Magazine of Horror.

"I was huge reader of Burroughs at a young age,  drawn to Tarzan's jungle adventures amongst the apes, a counterpoint to my obsession with King Kong and giant monsters. Later, John Carter's fantastic adventures enthralled me at the same time as I discovered the great illustrators and comic artists who ended up shaping my artistic vision."

Mike is an instructor at the Academy of Art University in San Fransisco. He also creates fine art, prints, and experimental films exploring H. P. Lovecraft's Cthulhu Mythos. Mike lives in Phoenix, Arizona with his wife, Carolyn, and three daughters. www.DUBISCH.com
LETTERER Jamal Walton
L Jamal Walton is a web and graphic designer, illustrator, colorist, and letterer currently based in Durham, NC. He has worked on projects big and small: Fist of Justice; Once Upon A Time Machine, Masters of the Universe; and Teenage Mutant Ninja Turtles, to name a few.

More recently, Jamal has focused more of his time working on his own comic creations: Warmageddon; Ungoodwise; and Captain Evil & Diabla.  He is always looking for opportunities to display his art at art exhibits and conventions, and to share his experience and skills in the craft of making comics via camps and workshops.
Please visit Edgar Rice Burroughs' Comic Subscription page
---
See the all our Comic Strip Samples
As with all the series featured at edgarriceburroughs.com/comics, the first four episodes will be available at no charge. Fans can gain unlimited access to the entire site and all the strips from the beginning for only $1.99 per month or $21.99 per year.
About the Edgar Rice Burroughs Digital Comic Strips Service
Regularly updated and expertly curated, the Edgar Rice Burroughs Digital Comic Strips service offers all new web comic adventures based on the classic characters and stories of Edgar Rice Burroughs. Current offerings include:
THE LAD AND THE LION™ by Martin Powell, Tomas M. Aranda, Oscar H. Gonzalez
THE GIRL FROM HOLLYWOOD™ by Charles Santino and Joel Zain Rivers
THE OUTLAW OF TORN™ by Tom Simmons, Jake Bilbao and L Jamal Walton
JUNGLE GIRL™ by Martin Powell, Will Meugniot and Jo Meugniot
THE LOST CONTINENT™ by Martin Powell and Oscar Gonzalez
THE MONSTER MEN™ by Tom Simmons, Erik Roman, L Jamal Walton and Cristian Docolomansky
JOHN CARTER WARLORD OF MARS™ by Roy Thomas, Pegaso, Salvador López, Carolina Sánchez, Guadalupe Rivera and Olivia Peña
KORAK THE KILLER (TM) by Ron Marz, Rick Leonardi, Neeraj Menon and Troy Peteri
THE MUCKER (TM) by Ron Marz, Lee Moder, Troy Peteri and Neeraj Menon
TARZAN OF THE APES (TM) by Roy Thomas and Tom Grindberg
THE NEW ADVENTURES OF TARZAN (TM) by Roy Thomas and Tom Grindberg
CARSON OF VENUS (TM) by Martin Powell, Thomas Floyd, and Diana Leto
THE ETERNAL SAVAGE (TM) by Martin Powell and Steven E. Gordon
THE WAR CHIEF(TM) by Martin Powell and Nik Poliwko
THE CAVE GIRL (TM) by Martin Powell and Diana Leto (A Bi-Weekly)
PELLUCIDAR (TM) by Chuck Dixion and Tom Lyle
THE LAND THAT TIME FORGOT (TM) by Martin Powell, Pablo Marcos and Oscar Gonzalez