The Master of Adventure is at it again! Edgar Rice Burroughs' "Jungle Girl" An All-New Digital WebComic Launch!
(October, 18 2014 – Tarzana, CA) I promised to take my lord to the jungle," replied the Cambodian. "There it is. I did not promise to enter it." And at that moment Gordon King made a fateful decision. "Wait for me here, then," he said. "I shall be out before dark." "You will never come out," said the Cambodian.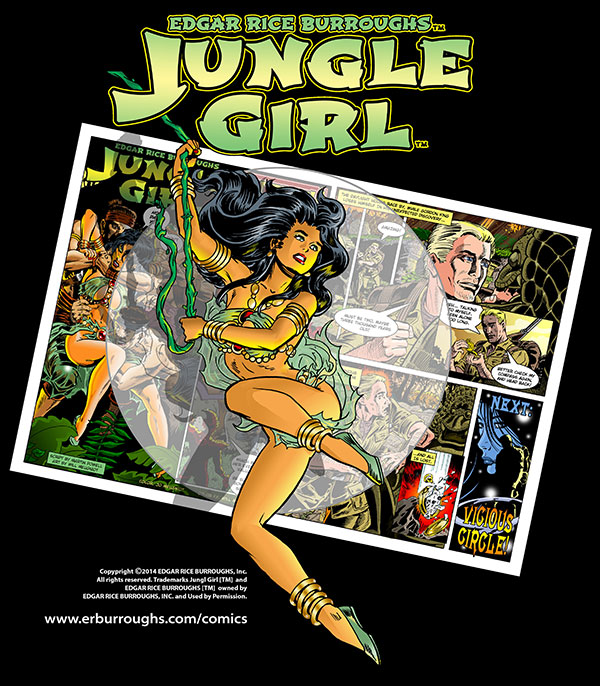 Deep in the jungle, King falls, breaks his compass and becomes hopelessly lost. On the eighth morning, as a fever overtakes King, he has hallucinations. Or so he believes when he encounters sad-faced queens on ghostly elephants in the dark shadows of the jungle where the ruins of their ancient cities still stand. Then, someone rescues him. Or so he dreams.
Adventure in a lost city of a secret kingdom awaits King – an American student of medicine, who came to the jungle to study strange maladies and, once there, becomes an explorer who stumbles upon the many thousand year-old secret of THE LAND OF THE HIDDEN MEN.
Asia, this vast continent of ancient civilizations and mysterious peoples, has many corners little known to the rest of the world. To survive in this ancient land, Gordon King must combat the warriors of the lost city of Pnom Dhek and battle the loathsome Leper King of Lodidhapura for the love of the beautiful jungle princess, Fou-tan.
Is the legend true, that while he can escape tigers and wild elephants, no man may look upon the ghost of the dead Khmer ancients and live? The young American soon finds that a courageous man might easily enter the treacherous depths of the jungle, but it is quite another matter as to whether he might ever come out again, alive.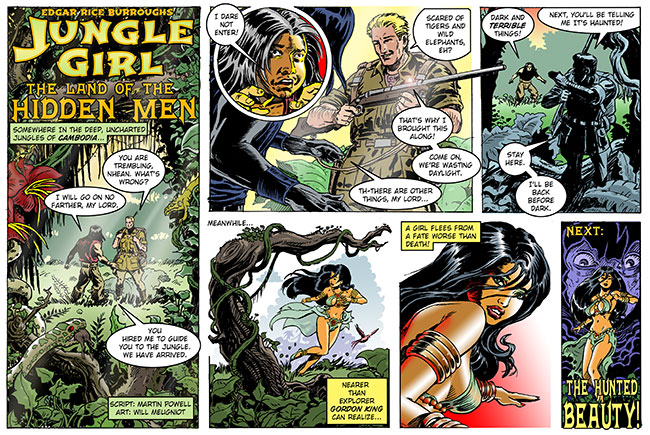 See the all our Comic Strip Samples
As with all the series featured at edgarriceburroughs.com/comics, the first four episodes of "Jungle Girl" will be available at no charge. Fans can gain unlimited access to the entire site and all the strips from the beginning for only $1.99 per month or $21.99 per year.
About the Edgar Rice Burroughs Digital Comic Strips Service
Regularly updated and expertly curated, the Edgar Rice Burroughs Digital Comic Strips service offers all new web comic adventures based on the classic characters and stories of Edgar Rice Burroughs. Current offerings include:
JUNGLE GIRL™ by Martin Powell, Will Meugniot and Jo Meugniot
THE LOST CONTINENT™ by Martin Powell and Oscar Gonzalez
THE MONSTER MEN™ by Tom Simmons, Erik Roman, L Jamal Walton and Cristian Docolomansky
JOHN CARTER WARLORD OF MARS™ by Roy Thomas, Pegaso, Salvador López, Carolina Sánchez, Guadalupe Rivera and Olivia Peña
KORAK THE KILLER (TM) by Ron Marz, Rick Leonardi, Neeraj Menon and Troy Peteri
THE MUCKER (TM) by Ron Marz, Lee Moder, Troy Peteri and Neeraj Menon
TARZAN OF THE APES (TM) by Roy Thomas and Tom Grindberg
THE NEW ADVENTURES OF TARZAN (TM) by Roy Thomas and Tom Grindberg
CARSON OF VENUS (TM) by Martin Powell, Thomas Floyd, and Diana Leto
THE ETERNAL SAVAGE (TM) by Martin Powell and Steven E. Gordon
THE WAR CHIEF(TM) by Martin Powell and Nik Poliwko
THE CAVE GIRL (TM) by Martin Powell and Diana Leto (A Bi-Weekly)
PELLUCIDAR (TM) by Chuck Dixion and Tom Lyle
THE LAND THAT TIME FORGOT (TM) by Martin Powell, Pablo Marcos and Oscar Gonzalez