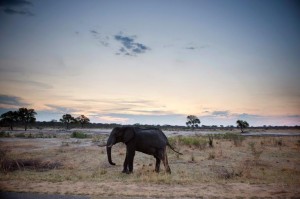 Harare (AFP) – A Chinese man was arrested at Zimbabwe's main airport Monday trying to smuggle ivory out of the country, wildlife authorities said, after reports of hundreds of elephants being poisoned.
The 34-year-old man was trying to board a flight to Malaysia carrying raw ivory and chopsticks and jewellery worth around $28,250 (20,500 euros), parks and wildlife authority spokeswoman Caroline Washaya-Moyo said.
"An Asian national was today arrested at the Harare International Airport for illegal possession of ivory," Washaya-Moyo said in a statement titled "Chinese national found with ivory at the airport".
"He was found with 17 raw pieces of ivory and several of worked ivory, which included bangles, chop sticks and beads weighing 113.9 kilogrammes."
Elephant tusks and other body parts are prized in Asia and the Middle East for ornaments, as talismans, and for use in traditional medicine.
The international trade in ivory, with rare exceptions, has been outlawed since 1989 after the population of African elephants dropped from millions in the mid-20th century to just 600,000 by the end of the 1980s.
Wildlife experts estimate that the illegal international ivory trade is worth up to $10 billion a year.
Concern is mounting in Zimbabwe over the poisoning of elephants in the country's biggest game park.
Wildlife authorities have said more than 100 elephants have died of cyanide poisoning, while the independent wildlife conservation group Zimbabwe Conservation Taskforce put the figure at 325.
Twelve people have been arrested in recent weeks in connection with the killings and five were sentenced in to at least 15 years in prison each.
Source: http://news.yahoo.com/zimbabwe-arrests-chinese-man-over-ivory-smuggling-173323332.html