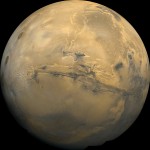 Yahoo has just reported:
NASA's Curiosity rover is continuing to help scientists piece together the mystery of how Mars lost its surface water over the course of billions of years.

The rover drilled into a piece of Martian rock called Cumberland and found some ancient water hidden within it. Researchers were then able to test a key ratio in the water with Curiosity's onboard instruments to gather more data about when Mars started to lose its water, NASA officials said. In the same sample, Curiosity also detected the first organic molecules it has found. Mission scientists announced the discovery in a news conference today (Dec. 15) at the American Geophysical Union's convention in San Francisco, where they also unveiled Curiosity's first detection of methane on Mars.
Read the full article Right Here!