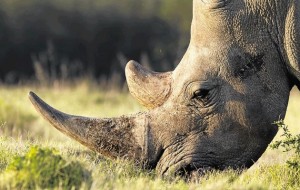 Yahoo news reported an interesting story about the War on Poaching in Kenya's Ol Jogi rhino sanctuary:
Ol Jogi (Kenya) (AFP) – With camouflage uniforms, assault rifles, night vision goggles, thermal imaging devices and radios, wildlife rangers in Kenya's Ol Jogi rhino sanctuary prepare for night patrol in the "war" against poaching.

As the late afternoon sun creeps towards the horizon and shadows lengthen on the sweeping plains dotted with rocky outcrops, Ol Jogi's armed rangers get set for another tough night on patrol.

"It sounds crazy, but it's actually a war," said Jamie Gaymer, head of security for the vast reserve.
Fully story at Yahoo News