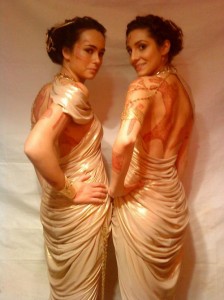 Ekaterina Botziou posted about her interesting experience starring in the 2012 John Carter movie. She describes the process of transforming into a native Martian by undergoing deep St Tropez tan sprays every two weeks, as well having red swirly tattooed glued onto her. Here is an excerpt of her experience:
The problem with a fake spray tan is that it gets progressively darker as time passes. So some days, I would get to the studios in the morning, as pale as a ghost, and travel back home on the train getting more and more orange with every stop.

I looked like a cross between a member of Hell's Angels and an orange smurf.

The cast spent almost 4 hours in hair and make-up every morning (bear in mind that our call time was usually 5:30am so the make-up artists had to work wonders), and we were told to ease up on the nightly wash in case the tan came off. Fat chance.
Read the full story on her blog!