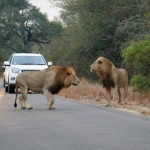 Scary story from Yahoo News:
The word "roadkill" took on a whole new meaning during a recent visit to Kruger National Park.

In the early hours of July 10, Carolyn Dunford was driving through the Orpen gate when she saw cars starting to slow down. That's when she noticed two huge male lions walking along the road, marking their territory.
Read the full article Right Here!