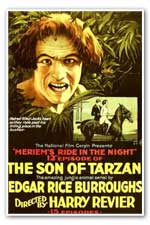 1920
The Son of Tarzan
Tarzan:

Perce Dempsey Tabler

Jane:

Karla Schramm

Korak/jack clayton:

Kamuela C. Searle

Korak as a child:

Gordon Griffith
Director:

Arthur J. Flaven and Harry Revier

Producer:

David P. Howells
Release Date:

1920 (First Chapter) January 27, 1921 (Final Chapter)

Run Time:

253 min (15 chapters)

Language:

Silent film, English intertitles
Plot
Tarzan and Jane have left Africa, married and settled in London. Their pre-teen son, Jack, dreams of jungle adventures like his father's, but is discouraged by his parents. He sneaks away to see a trained ape called Ajax (in reality, Akut, an old friend from Tarzan's youth). The ape's trainer is really Ivan Paulovich, an old enemy of Tarzan's, who is looking for a way to enact vengeance. He kidnaps Jack and takes him to Africa.
Jack escapes with Akut, and survives on his own in the wild much like his father before him. He is given the Ape name Korak, which means "Killer" in their language. Korak rescues Meriem, a young French girl held captive by Arab slave traders, and they grow to adulthood in the jungle. Paulovich hopes to receive a ransom from her wealthy parents for her return as well, and attempts to capture both of them.
Eventually Paulovich lures Jane to Africa in order to extort a ransom, but Tarzan soon follows. Tarzan and Jane, living at their African estate, find Meriem and informally adopt her. They discover her parentage and send for her father. The film climaxes with a battle pitting Korak against Paulovich, his henchmen and the slave traders. An elephant rescues Korak, who is bound to a stake, and he and Meriem are reunited with their parents, and all sail for England.[3]