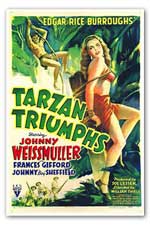 1943
Tarzan Triumphs
Tarzan:

Johnny Weissmuller

Zandra:

Frances Gifford

Boy:

Johnny Sheffield
Director:

Wilhelm Thiele

Producer:

Sol Lesser
Release Date:

February 19, 1943

Run Time:

76 min

Language:

English

Information:

Maureen O'Sullivan was unable to reprise her role as Jane due to pregnancy.[1] Instead, Frances Gifford played the princess of the lost city of Palandrya, which is conquered by Germans.
Plot
Tarzan and Boy are living on the Great Escarpment, though Jane has returned to England. A small force of German paratroopers lands and takes over the lost city of "Palandrya" as an advance base for the conquest of Sub Saharan Africa. Tarzan continually ignores the requests for help from the helpless and enslaved Palandrians, saying, "Jungle people fight to live, civilized people live to fight".
Only when Boy is kidnapped by the Germans does Tarzan shout, "Now Tarzan make war!" Tarzan infiltrates the lost city, destroying a machine gun and defeating the German invaders with his knife and an elephant blitzkrieg. The film's final scene has Cheeta speaking into the defeated Germans' short wave radio to call Berlin; the Germans mistake Cheeta for Adolf Hitler.