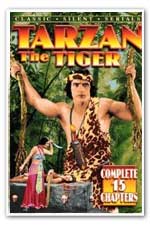 1929
Tarzan The Tiger
Tarzan:

Frank Merrill

Jane:

Natalie Kingston
Release Date:

October 1929 – February 1930

Run Time:

15 chapters, (266 min)

Language:

English

Information:

Frank Merrill reprised his role as Tarzan from Tarzan The Mighty. His performance in these two serials makes him the last silent Tarzan and the first sound Tarzan. Merrill did his own stunts and devised the original Tarzan Yell. Tarzan the Tiger was a transitional film with one version released as a silent and the other with a partial soundtrack. The soundtrack only covered music and sound effects, but does include the first Tarzan yell, although it does not sound like the now traditional call that was first used in the Johnny Weissmuller Tarzan movie Tarzan the Ape Man. Frank Merrill was scheduled to play Tarzan in Tarzan the Terrible howeer Merrill's voice was deemed unsuitable for sound film and the sequel was cancelled.
Plot
Lord Greystoke (Tarzan) returns to Africa, with Lady Jane and friend Albert Werper, in order to return to Opar. He needs the treasure of Opar in order to secure his estates in England. Werper, however, is actually interested in the gold himself. He is in league with Arab slave trader Achmet Zek who wishes revenge on Tarzan and Lady Jane for himself.