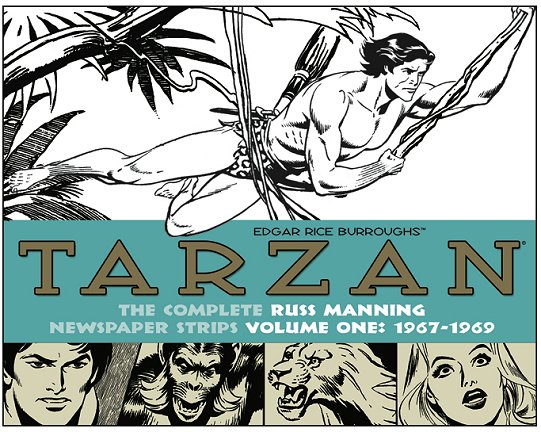 idwpublishing.com ~ Friday, Feb 8th, 2013
San Diego, CA (February 8, 2013) – IDW Publishing is proud to announce that the Library of American Comics will be collecting comics legend Russ Manning's classic run with Edgar Rice Burroughs' King of the Jungle in 2013! TARZAN: THE COMPLETE RUSS MANNING NEWSPAPER STRIPS is a four-volume series. The first three volumes will chronologically collect all of Manning's daily black & white and full-color Sunday strips from 1967 to 1974, while the fourth volume will collect the remaining Sunday strips, which Manning continued to do until 1979.
"The addition of Tarzan to the Library of American Comics amplifies even further that the imprint is the premier archival home for comic strip reprints and collections," says IDW's President and Chief Operating Officer Greg Goldstein. "Russ Manning's Tarzan run is one of the real highlights of the modern age of adventure strips and we are extremely excited to be the home of its long-anticipated return to print."
The series of hardcover volumes will commence May 29th with Tarzan: The Complete Russ Manning Newspaper Strips, Vol. 1: 1967 – 1969. Fans will be treated to the first-ever collection of a historic turning point in Tarzan history: when Russ Manning was handpicked by the Burroughs estate to return the strip to its creator's original vision. Manning put together a dream team of assistants in this historic endeavor, including future comics greats Dave Stevens, William Stout, and Mike Royer, creating one of the most loaded rosters in comics history, and a perfect opportunity for new fans to discover the adventures of Viscount Greystoke.
In his introduction to Volume One, William Stout writes, "Russ Manning was a natural storyteller. He may also be one of the most underrated writers in comics. His beautiful art is so captivating that it's easy to understand how it might overshadow his scripts. He was as adept with telling Tarzan tales in contemporary Africa as he was setting Ape Man stories in dinosaur-infested Pal-ul-don."
Reproduced from the Edgar Rice Burroughs, Inc. file copies, fans can expect TARZAN: THE COMPLETE RUSS MANNING NEWSPAPER STRIPS to receive the same critically acclaimed, award-winning treatment that Dean Mullaney, The Library of American Comics, and IDW Publishing have become renowned for.
Tarzan: The Complete Russ Manning Newspaper Strips, Vol. 1: 1967 – 1969 ~ (HC, B&W, $49.99, 288 pages.)