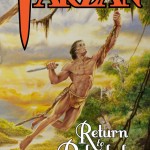 A favorable review from the Raven!
And before Lord Greystoke leaves Pal-ul-don he will have been captured, escaped, captured again, nearly poisoned, trapped by a great spider, ride a giant turtle, and make new friends. This book is highly recommended. It is Tarzan as Tarzan should be written.
Read the full review Right Here!