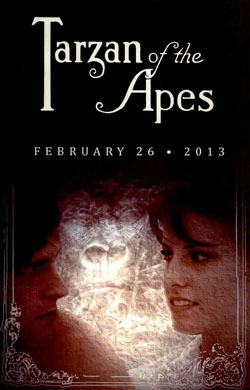 Students at Western Carolina University located in Cullowhee, North Carolina, under the direction of Mr. Don Connelly, Associate Professor and Head of the Department of Communication, will transcribe excerpts from previous Tarzan recordings from 1932-33 that will become a 60 minute radio program. The recordings are available here.
The first 22 episodes provide the overall story line from the landing of Lord and Lady Greystoke through the rescue of Jane from Terkoz or Kerchak The Ape (not sure which one) by Tarzan when he and Jane meet and speak for the first time. The specific shows that they will take excerpts from include:
Episodes:
1 Tarzan's First Birthday
2 Battle with the Apes
3 Tarzan in Young Manhood
5 Tarzan Sees a Ship
8 Did the Bottle Really Go Over the Side
9 The Captain is in Quicksand
10 A Fight Aboard Ship
11 Tarzan's Shack
19 Morning Arrives
21 Tarzan Rescues Jane From the Apes

There will be one live performance of the show on February 26, 2013 at 7:30 PM at the University's Bardo Fine and Performing Arts Center and a radio broadcast of the show on WWNC AM in Ashevlle, North Carolina. All proceeds go to benefit academic scholarships for students in the participating departments at the University. A television production class will do a live multi-camera shoot as a class project for archival purposes. They will enter the archival recording in academic festivals for peer review. No recordings of the show will be produced for the public or offered for sale. They will enter the performance in the Kennedy Center American College Theatre Festival. Representatives of the festival attend the live performance and present a review to the company. If selected in advance, the show is performed at the regional competition, and if it advances from there, it would be performed at the Kennedy Center College Theatre Festival in Washington, D.C.
Should be a lot of fun for all!