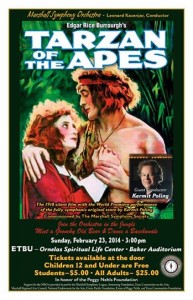 The Marshall Symphony Orchestra and The Marshall Symphony Society are proud to announce the world premiere of guest conductor Kermit Poling's original score set to the film Tarzan of The Apes.

The premier will be Sunday February 23rd at 3:00 pm in Baker Auditorium of ETBU's Ornelas Spiritual Life Center. Please come and enjoy this classic 1918 silent film with a fully symphonic original score. Edgar Rice Burrourgh's classic story will fill the screen while the orchestra plays in the jungle. You don't want to miss it!

Tickets are $25.00 for adults, $5.00 for students, and free for children age 12 and under. Tickets are available at the door.