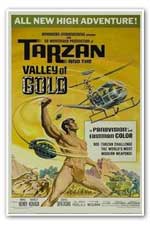 1966
Tarzan and the Valley of Gold
Tarzan:

Mike Henry

Sophia renault:

Nancy Kovak
Director:

Robert Day

Producer:

Sy Weintraub
Release Date:

July 1966

Run Time:

90 min
Plot
Augustus Vinero, a wealthy international criminal, known for his habit of sending explosive wristwatches to those not in his favor, kidnaps Ramel, a small boy who may know the location of the fabled Valley of Gold in Mexico.
Tarzan is called in by an old friend to track the kidnappers and rescue the boy. Along the way, he rescues Sophia Renault.
The finale involves Tarzan battling Vinero's hulking hennchman, Mr. Train, and a showdown with a helicopter.