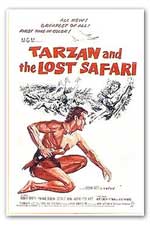 1957
Tarzan and the Lost Safari
Tarzan:

Gordon Scott

Diana penrod:

Betta St. John
Director:

Bruce Humberstone

Producer:

John Croydon
Release Date:

April 12, 1957

Run Time:

86 min

Information:

Tarzan and the Lost Safari was the first Tarzan movie released in color.
Plot
An airplane crashes in the jungle, stranding passengers Gamage Dean (Yolande Donlan), Diana Penrod (Betta St. John), "Doodles" Fletcher (Wilfrid Hyde-White), Carl Kraski (George Coulouris), and Dick Penrod (Peter Arne). Before the plane slides into a gorge the group is rescued by Tarzan (Gordon Scott), who undertakes to lead them back to civilization. Diana is kidnapped by warriors from Opar under chief Chief Ogonooro (Orlando Martins). The Oparians desire the strangers as sacrifices for their lion god. She is recovered by Tarzan and hunter Tusker Hawkins (Robert Beatty), whose advances Diana rebuffs. Secretely, however, Hawkins is in league with the Oparians, and plans to sell the castaways to the natives for a fortune in ivory. Tarzan, rightly suspecting Hawkins' untrustworthiness, exposes his treachery. Now openly in league with the natives, the hunter helps them take the white party captive in Tarzan's absence. The ape man returns to save them before the sacrifice can take place, aided by his chimpanzee ally Cheeta, who sets fire to the native village. He then leads them to the safety of a nearby settlement. Hawkins meets his fate at the hands of the Oparians, to whom Tarzan has signalled his double-dealing by a creative use of jungle drums.
The film contains more echoes of the original Burroughs novels than usual in a Tarzan movie, including the ape man's allusions to his origin (which follows Burroughs' version), and the use of Opar, though reducing the romantic lost city described by Burroughs to a generic native village. Tarzan, while retaining the customary film characterization of an inarticulate simpleton, displays considerable shrewdness and resource, foreshadowing the restoration of Burroughs' original concept of an intelligent, omnicompetent ape man in later movies.