We have received the print proofs for Tarzan volumes #13–16 in the Edgar Rice Burroughs Authorized Library (they look awesome!) and ordered the final books from the printer, and now we are just waiting for them to arrive in our warehouse. As we had indicated when the set went up for preorder, we had hoped for the books to ship to customers before the end of Q1 2022 (i.e., March 31), but now the printer estimates that the books will arrive in our warehouse sometime in April.
The good news is we have significantly expanded the length of the afterwords and archival sections for this set of books, so you will have more to enjoy when you do get them in your hands! To give you some idea of what we mean, in Tarzan #13–16, the afterwords (detailing the behind-the scenes history for each novel) range from 30–47 pages and the "From the Archives of Edgar Rice Burroughs, Inc." sections (featuring rare and never-before-published materials from our archives) range from 56 pages to a whopping 78 pages! Among the archival treasures in Tarzan books #13–16, you will find:
A previously unpublished film treatment written by Edgar Rice Burroughs for Tarzan and the City of Gold that was submitted to MGM circa 1938
The never-before-in-print four-page manuscript of ERB's "Pronunciation of Coined Words Used in the Tarzan Novels" (ever wonder how to pronounce "Nemone"?)
Previously unpublished illustrations by ERB, including maps; prehistoric creatures and beasts from Pellucidar; characters from the novels; and the O-220 dirigible that carried Tarzan, Jason Gridley, and crew to the Earth's core!
Tons of never-before-seen correspondence, and much, much more!
Here's a peek at the proofs to tide you over until the books hit your mailbox: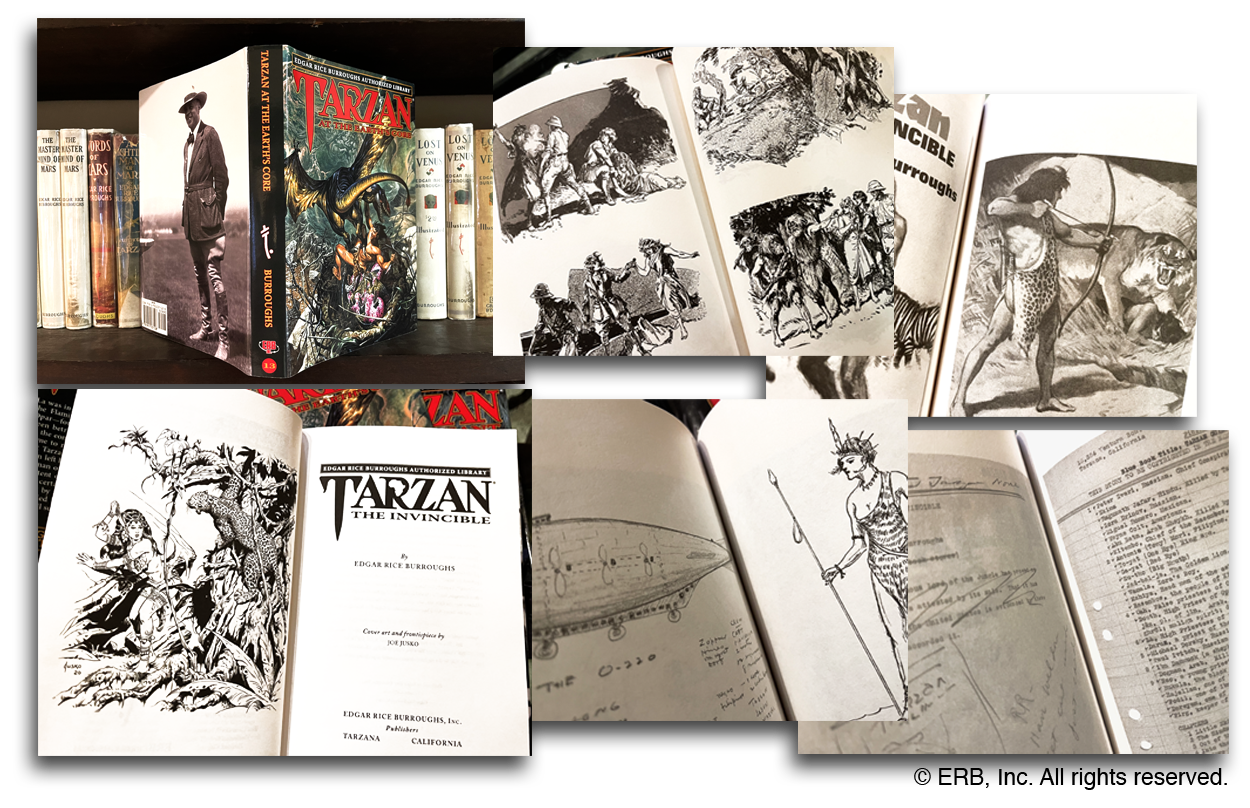 Edgar Rice Burroughs Authorized Library

For the first time, the Edgar Rice Burroughs Authorized Library presents the complete literary works of the Master of Adventure in uniform hardcover editions. Published by the company founded by Mr. Burroughs in 1923, each volume of the Authorized Library is packed with extras and rarities not to be found in any other edition. From cover art and frontispieces by legendary artist Joe Jusko to forewords and afterwords by today's authorities and luminaries to a treasure trove of bonus materials mined from the company's extensive archives in Tarzana, California, the Edgar Rice Burroughs Authorized Library will take you on a journey of wonder and imagination you will never forget.
---
© Edgar Rice Burroughs, Inc. All Rights Reserved. Trademarks Tarzan®, Tarzan of the Apes™, Pellucidar™ At the Earth's Core™, Jason Gridley™, Edgar Rice Burroughs®, and Edgar Rice Burroughs Authorized Library™ owned by Edgar Rice Burroughs, Inc. Associated logos, characters, names, and the distinctive likenesses thereof are trademarks or registered trademarks of Edgar Rice Burroughs, Inc.