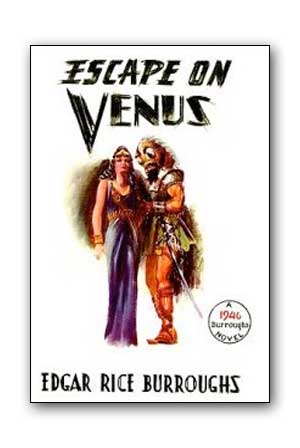 Escape on Venus
Synopsis
With his beloved princess, Duare, at his side, Carson Napier has once again managed to escape the scheming webs of Amtor's fearsome powers—only to fall prey to a hideous race of humanoid amphibians, ruled by the dread king Tyros the Bloody. But Carson is far more than a fugitive and a captive: he is the only Earthman to have penetrated the forbidding clouds surrounding Venus, there to become a pirate, an explorer, and finally a prince of her cities. His determination to survive the horrors of the savage world that fate has cast him onto, and to bring his lovely bride home to her people in safety, take them both through some of the most thrilling and courageous adventures ever penned by the Master of Adventure.
Forthcoming in the Edgar Rice Burroughs Authorized Library.
Escape on Venus © 1941, 1942 Edgar Rice Burroughs, Inc. Synopsis © Edgar Rice Burroughs, Inc. All Rights Reserved. Trademarks Carson of Venus®, Carson Napier™, Duare™, and Amtor™ Owned by Edgar Rice Burroughs, Inc.