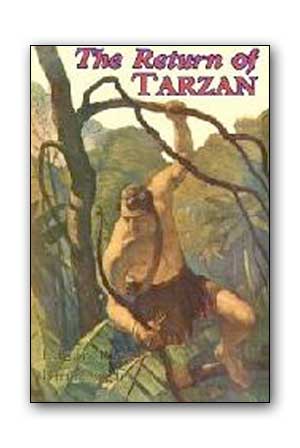 The Return of Tarzan
1913
Disconsolate over the loss of Jane Porter's hand to his cousin William Cecil Clayton, Tarzan renounces his title of Lord Greystoke and returns to Paris to visit his friend Paul D'Arnot. Realizing the ape-man is not suited to the vicissitudes of civilization, D'Arnot helps his grieving comrade acquire a post in the French Secret Service that better fits Tarzan's adventurous nature.
After disrupting a Russian espionage operation, the ape-man is tossed overboard during his ocean passage to South Africa, and resumes his primitive life on the West Coast. He befriends the Waziri tribe and leads them on a trek to explore the lost city of Opar, a forgotten land populated by a bestial race, ruled by the mercurial high priestess La. There, Tarzan's path will cross once again with that of Jane Porter, but can the two realize their love is destined before they meet death on the altar of the Flaming God?
Now available in the Edgar Rice Burroughs Authorized Library. Order here.