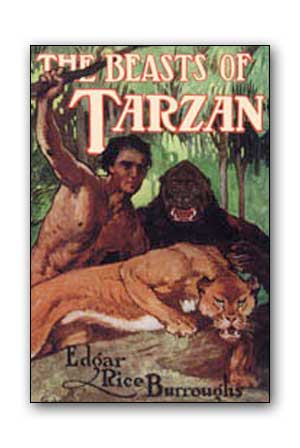 The Beasts of Tarzan
1914
After settling at their London estate as Lord and Lady Greystoke, Tarzan and Jane find their contentment shattered by the ape-man's former enemies, the Russian spies Nikolas Rokoff and Alexis Paulvitch. Bent on revenge, the two villians kidnap Jane and the couple's infant son Jack, stranding Tarzan naked and alone on a remote jungle island while fleeing to the African interior.
Tarzan's savage nature reemerges as he recruits Sheeta the panther, Akut and his tribe of great apes, and the mighty warrior Mugambi to pursue the criminals up the Ugambi River into the heart of the jungle, where cannibal tribes hold sway and his desperate adversaries pursue their cruel vendetta.
Now available in the Edgar Rice Burroughs Authorized Library. Order here.