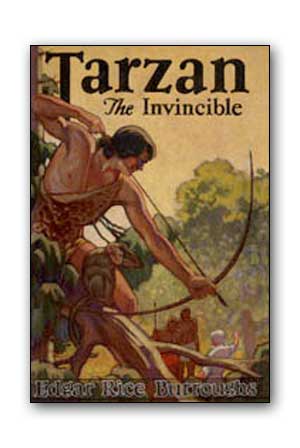 Tarzan the Invincible
1931
Synopsis
La was in trouble. The high priestess of the Flaming God in the ancient city of Opar—forgotten outpost of Atlantis–had been betrayed by her people and locked in the eon-haunted dungeons until Tarzan came to rescue her. La still loved Tarzan, but Tarzan brought her to his people and then left her. Now, together with a strange woman of Tarzan's kind, she lies bound in the tent of an Arab slave trader, dreading her certain fate. Meanwhile, Tarzan is beset by a strange band of men who have invaded his land…led by a madman bent on evil subversion!
Now available in the Edgar Rice Burroughs Authorized Library. Order here.
Tarzan the Invincible © 1930, 1931 Edgar Rice Burroughs, Inc. Synopsis © Edgar Rice Burroughs, Inc. All Rights Reserved. Trademarks Tarzan®, Tarzan of the Apes®, Lord of the Jungle®, La of Opar™, Opar™, and Edgar Rice Burroughs® Owned by Edgar Rice Burroughs, Inc.