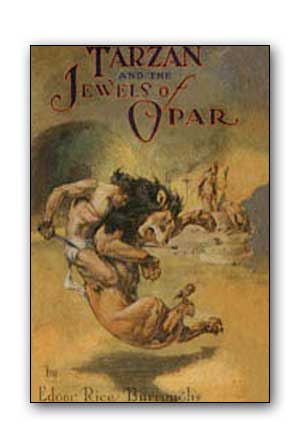 Tarzan and the Jewels of Opar
1916
When fate deals a devastating blow to Tarzan and Jane's fortunes, the ape-man must once again refill their coffers from the legendary treasure vaults of Opar, forgotten outpost of lost Atlantis. There awaits the high priestess La, ready to sacrifice Tarzan upon the altar of the Flaming God for having spurned her love, even while the traitorous, half-bestial high priest of Opar schemes to usurp her rule.
Meanwhile, Jane faces her own troubles when she falls victim to the machinations of disgraced Belgian officer Lieutenant Werper and a band of ivory and slave traders. But when an earthquake strikes down Tarzan and leaves him with only the memory of his youth as an ape, how will he unravel the nefarious plot that imperils Jane's life and recover the stolen jewels of Opar?
Now available in the Edgar Rice Burroughs Authorized Library. Order here.
Synopsis © Edgar Rice Burroughs, Inc. All Rights Reserved. Trademarks Tarzan®, Tarzan of the Apes®, Lord of the Jungle®, Tarzan and Jane®, Jane Porter®, La of Opar™, Opar™, and Edgar Rice Burroughs® Owned by Edgar Rice Burroughs, Inc.