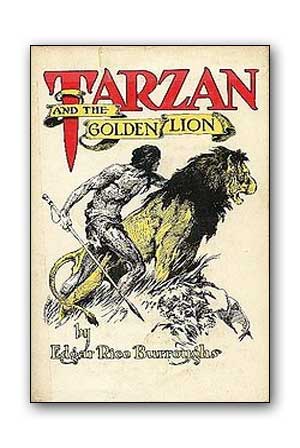 Tarzan and the Golden Lion
1922
Betrayed by a band of international conspirators, Tarzan is drugged and left to die in the jungle. But then a quirk of fate delivers him into the hands of the frightful priests of Opar, the last bastion of lost Atlantis. La, High Priestess of the Flaming God, spares his life once again, driven by her hopeless love for the ape-man, only to find her act rewarded by the betrayal of her own people. To save her, Tarzan flees with La into the legendary Valley of Diamonds, while Jad-bal-ja, his faithful golden lion, follows. Ahead lies a land where sentient gorillas rule over servile humans. And behind, Esteban Miranda—who looks exactly like Tarzan—plots further treachery.
Now available in the Edgar Rice Burroughs Authorized Library. Order here.
Synopsis © Edgar Rice Burroughs, Inc. All Rights Reserved. Trademarks Tarzan®, Tarzan of the Apes®, Lord of the Jungle®, La of Opar™, Jad-bal-ja™, Opar™, and Edgar Rice Burroughs® Owned by Edgar Rice Burroughs, Inc.