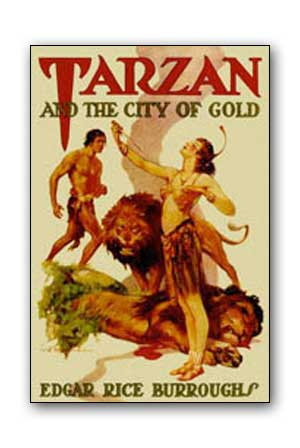 Tarzan and the City of Gold
1932
Synopsis
When Tarzan of the Apes frees a man being tortured by cruel bandits, he is surprised to learn that the stranger comes from no race or country the ape-man knows. He is from the fabled land of Onthar, where lie two ancient cities unknown to the outside world. One is Athne, city of ivory; the other is Cathne, city of gold and evil. There great prides of trained lions are used to hunt down men and wage eternal war. And there Tarzan meets the beautiful queen Nemone, who is determined to have Tarzan as her king…or feed him to the lions!
Coming soon to the Edgar Rice Burroughs Authorized Library. Order here.
Tarzan and the City of Gold © 1932 Edgar Rice Burroughs, Inc. Synopsis © Edgar Rice Burroughs, Inc. All Rights Reserved. Trademarks Tarzan®, Tarzan of the Apes®, Lord of the Jungle®, and Edgar Rice Burroughs® Owned by Edgar Rice Burroughs, Inc.