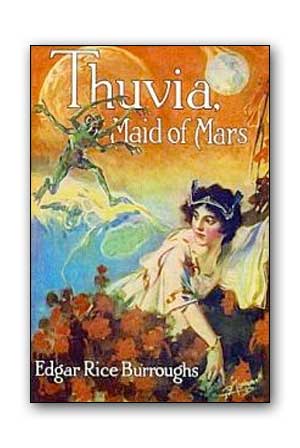 Thuvia, Maid of Mars
Synopsis
When unknown raiders seized Thuvia, Princess of Ptarth, the chief suspect was Carthoris, son of the Warlord of Mars. Yet only Carthoris could rescue the women who had spurned his love. Carthoris saw Thuvia dragged to the foot of the rostrum. He saw Hortan Gur address her. He could not hear the Torquasian jeddak!s words, nor Thuvia's reply, but it must have angered the green monster, for Carthoris saw him leap toward the prisoner, striking her a cruel blow across the face. Then the son of John Carter, Warlord of Barsoom, went mad. His half-Earth muscles sent him in enormous leaps and bounds toward the vile creature who had struck the women he loved. Before the green warriors of Hortan Gur could respond, there came from the beleaguered city across the plains a fearsome sound-and from the gates issued a threat far more deadly than the swordsman advancing upon them!
Forthcoming in the Edgar Rice Burroughs Authorized Library.
Synopsis © Edgar Rice Burroughs, Inc. All Rights Reserved. Trademarks John Carter®, John Carter of Mars®, Dejah Thoris®, Carthoris™, and Barsoom® Owned by Edgar Rice Burroughs, Inc.