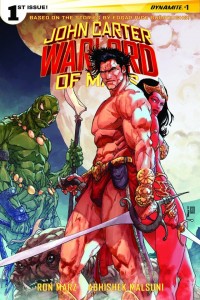 Ron Marz has been writing comics for more than two decades, starting his career with a lengthy run on Silver Surfer for Marvel. Since then, he has worked for virtually every major publisher and compiled a long list of credits, including stints on Green Lantern for DC, Star Wars and Conan for Dark Horse, Witchblade for Top Cow, and as a staff writer for CrossGen Comics. He is also the current writer for The Mucker and Korak the Killer web comic hosted by Edgar Rice Burroughs website.
In an interview for ComicVine, Ron Marz goes into details about his inspiration and love for Edgar Rice Burroughs comics, as well as beginning work on the newest John Cater Warlord of Mars series published by Dynamite. He explains how John Carter made him want to become a writer growing up. He has ambitious plans for the first storyline as well as a great new villain. Marz also hopes to bring in new readers by starting fresh and re-introducing the world and setting, while still focusing on the heart of the series.
You can read the full article here!
Online Comic Book Subscriptions






Follow 12 Golden / Silverage comics online inspired by Edgar Rice Burroughs classics and get behind-the-scenes Bonus Materials such as artist sketches and older comics! All our strips are updated weekly and available immediately online for just single subscription of $1.99/ month or $21.99 /year!
Don't wait, Sign up Now!