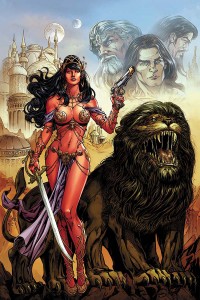 Dynamite Entertainment has just announced that they have signed Ron Marz for a new ongoing John Carter: Warlord of Mars comic series launching in November. Marz is a veteran of the comic industry having written and edited a number of prolific titles such as Green Lantern and Silver Surfer. He expressed great enthusiasm for working on the new John Carter, stating it is a job he has been "wanting to do since [he] was twelve years old." Dynamite Entertainment, too, shares Marz's excitement.
The new comic series stars the science fiction and fantasy hero John Carter who mysteriously finds himself in the alien world of Barsoom. Struggling to adapt and fight new enemies, great challenges and adversary will require John to become a true Warlord. The original series debuted with an Edgar Rice Burrough's novel in 1912, an inspired many future adventure classics from Flash Gordon to Star Wars and Avatar.
You can read the full article at All-Comics. Don't want to wait till November for the new comics? New John Carter: Warlod of Mars comics are available online right now!
Online Comic Book Subscriptions






Follow 12 Golden / Silverage comics online inspired by Edgar Rice Burroughs classics and get behind-the-scenes Bonus Materials such as artist sketches and older comics! All our strips are updated weekly and available immediately online for just single subscription of $1.99/ month or $21.99 /year!
Don't wait, Sign up Now!